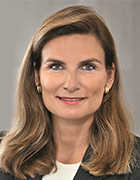 Prof. Dr. Ann-Kristin Achleitner
Academic Career and Research Areas
Professor Achleitner (b. 1966) conducts research in the area of entrepreneurial finance with a focus on the financing of innovation, venture capital, private equity and family businesses. She also deals with social entrepreneurship – particularly financing of social enterprises.
She completed her studies and doctoral degrees in both economics and law as well as her postdoctoral teaching qualification (habilitation) at the University of St. Gallen, Switzerland. From 1995 to 2001, she was professor of banking and finance at the European Business School (ebs) in Oestrich-Winkel. Since 2001, Prof. Achleitner has held the Chair of Entrepreneurial Finance and, since 2003, she has been Scientific Co-Director of the Center for Entrepreneurial and Financial Studies (CEFS) at TUM. In 2017, she received an honorary doctorate from Leuphana University Lüneburg. Prof. Achleitner is a member of various supervisory boards of listed companies and is a sought-after political advisor. Since 2018, she has been a member of the Executive Committee of the German Academy of Science and Engineering (acatech).
Awards
Highly Commended paper in the 2015 Emerald Literati Network Awards for Excellence (2015)
Officer's Cross of the Order of Merit of the Federal Republic of Germany (2014)
Appointment as a member of acatech (National Academy of Science and Engineering) (2014)
EFM 2013 Top Download Award, awarded by the European Financial Management (2014)
Cross of the Order of Merit of the Federal Republic of Germany (2007)
Achleitner AK, Braun R, Lutz E, Tappeiner F: "Private equity group reputation and financing structures in German leveraged buyouts". Journal of Business Economics. 2018; 88(3-4): 363-392.
Abstract
Thommen JP, Achleitner AK, Gilbert D, Hachmeister D, Kaiser G: Allgemeine Betriebswirtschaftslehre. Umfassende Einführung aus managementorientierter Sicht. 8. Aufl. Wiesbaden: Gabler Verlag, 2017.
Abstract
Schmid T, Achleitner AK, Ampenberger M, Kaserer C: "Family Firms and R&D Behavior – New Evidence from a large-scale Survey". Research Policy. 2014; 43(1): 233-244.
Abstract
Achleitner AK, Lutz E, Mayer J, Spiess-Knafl W: "Disentangling Gut Feeling – Assessing the Integrity of Social Entrepreneurs". VOLUNTAS: International Journal of Voluntary and Nonprofit Organizations. 2013; 24(1): 93-124.
Abstract
Achleitner AK, Braun R, Hinterramskogler B, Tappeiner F: "Structure and determinants of financial covenants in leveraged buyouts". Review of Finance. 2012; 16(3): 647-684.
Abstract