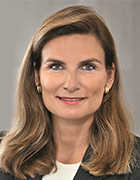 Prof. Dr. Ann-Kristin Achleitner
Academic Career and Research Areas
Professor Achleitner (b. 1966) conducts research in the area of entrepreneurial finance with a focus on the financing of innovation, venture capital, private equity and family businesses. She also deals with social entrepreneurship – particularly financing for social enterprises.
She completed her undergraduate and doctoral studies in both economics and law as well as her postdoctoral teaching qualification (habilitation) at the University of St. Gallen in Switzerland. From 1995 to 2001, she was professor of banking and finance at the European Business School (ebs) in Oestrich-Winkel, Germany. Professor Achleitner has held the Chair of Entrepreneurial Finance at TUM since 2001 and has served as Scientific Co-Director of the Center for Entrepreneurial and Financial Studies (CEFS) since 2003.
Awards
Member of acatech (German Academy of Science and Engineering) (2014)
First Class Cross of Merit of the Order of Merit of the Federal Republic of Germany (2014)
Professor of the year 2006 (awarded by Germany's student magazine UNICUM Beruf with the support of KPMG to professors who successfully help students starting out on their careers) (2006)
"Preis für gute Lehre 2004" (Outstanding Teaching Award 2004) awarded by the Bavarian State Ministry of Sciences, Research and the Arts (2005)
Pro meritis scientiae et litterarum (awarded by the Bavarian State Ministry of Sciences, Research and Arts for outstanding scientific achievement in Bavaria) (2004)
Key Publications
Achleitner A, Figge C, Lutz E: "Value creation drivers in a secondary buyout – the acquisition of Brenntag by BC Partners". Qualitative Research in Financial Markets. 2014; 6(3): 278-301.
Abstract
Achleitner A, Figge C: "Private Equity Lemons? Evidence on Value Creation in Secondary Buyouts". European Financial Management. 2014; 20(2): 406-433.
Abstract
Schmid T, Achleitner A, Ampenberger M, Kaserer C: "Family Firms and R&D Behavior – New Evidence from a large-scale Survey". Research Policy. 2014; 43(1): 233-244.
Abstract
Achleitner A, Lutz E, Mayer J, Spiess-Knafl W: "Disentangling Gut Feeling – Assessing the Integrity of Social Entrepreneurs". VOLUNTAS: International Journal of Voluntary and Nonprofit Organizations. 2013; 24(1): 93-124.
Abstract
Achleitner A, Braun R, Hinterramskogler B, Tappeiner F: "Structure and determinants of financial covenants in leveraged buyouts". Review of Finance. 2012; 16(3): 647-684.
Abstract
print view