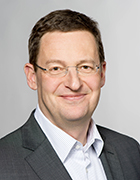 Prof. Dr. Nikolaus A. Adams
Academic Career and Research Areas
Professor Adams conducts research focusing on the modeling of transitional and turbulent flows, fluid-structure interaction, microfluidics, multi-phase flows, and numerical methods. He also performs experimental and numerical analysis in the fields of automotive and aircraft aerodynamics, high-velocity aerodynamics, and environmental and sports equipment aerodynamics.
After studying aerospace engineering at the University of Stuttgart and receiving a doctorate from TUM (1993), Professor Adams was awarded a two-year postdoctoral fellowship at Stanford University and NASA Ames Research Center. In 1999 Professor Adams acquired his postdoctoral teaching qualification (habilitation) at ETH (Swiss Federal Technology Institute). He worked as an assistant professor at ETH until 2002 when he moved to TU Dresden as a professor of flow mechanics and magneto-fluid dynamics. Since 2004 Professor Adams has been a full professor in the Aerodynamics and Flow Mechanics Department at TUM. Professor Adams is the speaker of Collaborative Research Centre Transregio TRR 40. He is the author of a monograph on large eddy simulation and is the executive editor of the Journal of Computational Physics.
Awards
ERC Advanced Grant NANOSHOCK (2015)
Gordon Bell Prize for Peak Performance (2013)
Fellow, American Physical Society (APS) (2011)
O.C. Zienkiewicz Award, European Community on Computational Methods in Applied Sciences (ECCOMAS) (2000)
Fellow, European Conference for AeroSpace Sciences (EUCASS) (2009)
Key Publications
Grilli M, Schmid PJ, Hickel S, Adams NA: "Analysis of unsteady behaviour in shockwave turbulent boundary layer interaction". Journal of Fluid Mechanics. 2012: 1-13.
Abstract
Sagaut P, Adams NA, Garnier E: Large-Eddy Simulation for Compressible Flows. Dordrecht: Springer Verlag, 2009.
Abstract
Hu X, Adams NA: "A multi-phase SPH method for macroscopic and mesoscopic flows". J. Comput. Phys. 2006; 213: 844-861.
Abstract
Hickel S, Adams NA, Domaradzki JA: "An adaptive local deconvolution method for implicit LES". J. Comput. Phys. 2006; 213: 413-436.
Abstract
Adams NA: "Direct simulation of the turbulent boundary layer along a compression ramp at M=3 and Re=1685". J. Fluid Mech. 2000; 420: 47-83.
Abstract
print view