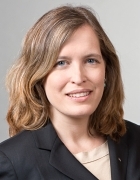 Prof. Donna Ankerst, Ph.D.
Academic Career and Research Areas
Donna Ankerst conducts research in the field of applied statistics, in particular on the development of methods for dealing with difficulties encountered in the analysis of observation studies and experiments, including missing data, high-dimensional covariate such as genetic and proteomic risk profiles, as well as the causal inferences of treatment effects.
After completing undergraduate studies in mathematics and a doctorate in statistics at Carnegie Mellon University, Donna Ankerst worked as a postdoctoral researcher at Harvard University, Boston (1997-2000) and subsequently, at the Fred Hutchinson Cancer Research Center, Seattle (2000-2006). Since 2008 she has served as an associate professor of Biostatistics at the TUM as well as research professor in Urology, Epidemiology and Biostatistics at the University of Texas Health Science Center, San Antonio, USA. She conducts research in Biostatistics, specializing in risk prediction for prostate cancer and causal inference from observational studies.
Awards
US National Science Foundation Mathematical Sciences Postdoctoral Fellowship (1997-2000)
Key Publications
Ankerst DP, Straubinger J, Selig K, Guerrios L, De Hoedt A, Hernandez J, Liss MA, Leach RJ, Freedland SJ, Kattan MW, Nam R, Haese A, Montorsi F, Boorjian SA, Cooperberg MR, Poyet C, Vertosick E, Vickers AJ: "A contemporary prostate biopsy risk calculator based on multiple heterogeneous cohorts". European Urology. 2018; 74 (2):197-203.
Abstract
Ankerst DP, Xia J, Thompson IM, Jr., Hoefler J, Newcomb LF, Brooks JD, Carroll PR, Ellis WJ, Gleave ME, Lance RS, Nelson PS, Wagner AA, Wei JT, Etzioni R, Lin DW: "Precision medicine in active surveillance for prostate cancer: development of the Canary-EDRN active surveillance biopsy risk calculator". European Urology. 2015; 68 (6):1083-1088.
Abstract
Strobl AN, Vickers AJ, van Calster B, Steyerberg E, Leach RJ, Thompson IM, Ankerst DP: "Improving patient prostate cancer risk assessment: moving from static, globally-applied to dynamic, practice-specific cancer risk calculators". Journal of Biomedical Informatics. 2015; 56:87-93.
Abstract
Grill S, Fallah M, Leach RJ, Thompson IM, Hemminki K, Ankerst DP: "A simple-to-use method incorporating genomic markers into prostate cancer risk prediction tools facilitated future validation". Journal of Clinical Epidemiology. 2015; 68 (5):563-73.
Abstract
Thompson IM, Leach RJ, Ankerst DP: "Focusing PSA testing on detection of high-risk prostate cancers by incorporating patient preferences into decision making". Journal of the American Medical Association. 2014; 312 (10):995-996.
Abstract
print view