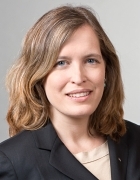 Prof. Donna Ankerst, Ph.D.
Academic Career and Research Areas
Donna Ankerst (b. 1968) conducts research in the field of applied statistics, in particular on the development of methods for dealing with difficulties encountered in the analysis of observation studies and experiments, including missing data, high-dimensional covariate such as genetic and proteomic risk profiles, as well as the causal inferences of treatment effects.
Having completed undergraduate studies in mathematics and receiving her doctorate in statistics at Carnegie Mellon University, Ankerst worked as a postdoctoral researcher at Harvard University, Boston (1997-2000) and at Fred Hutchinson Cancer Research Center, Seattle (2000-2006). In 2006 she took up a position in Munich, initially at LMU Munich. Since 2008 she has headed the associate professorship for mathematical statistics at TUM. Ankerst has also been a research professor at the University of Texas Health Science Center, San Antonio, USA, since 2006.
Awards
US National Science Foundation Mathematical Sciences Postdoctoral Fellowship (1997-2000)
Key Publications
Ankerst DP, Miyamoto R, et al.: "Yearly prostate specific antigen and digital rectal examination fluctuations in a screened population". Journal of Urology. 2009; 181(5): 2071-5.
Abstract
Ankerst DP, Groskopft J, et al.: "Predicting prostate cancer risk through incorporation of prostate cancer gene 3". Journal of Urology. 2008; 180(4): 1303-8.
Abstract
Thompson IM, Ankerst DP, et al: "Assessing prostate cancer risk: results from the Prostate Cancer Prevention Trial". Journal of the National Cancer Institute. 2006; 98(8): 529-34.
Abstract
Thompson IM, Ankerst DP, et al.: "Operating characteristics of prostate-specific antigen in men with an initial PSA level of 3.0 ng/ml or lower". Journal of the American Medical Association. 2005; 294(1): 66-70.
Abstract
Thompson IM, Pauler (Ankerst) DK, et al.: "Prevalence of prostate cancer among men with a prostate-specific antigen level < or =4.0 ng per milliliter". New England Journal of Medicine. 2004; 350(22): 2239-46.
Abstract
print view