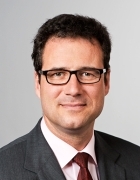 Academic Career and Research Areas
The main research interest of Professor Ann (b. 1962) at TUM and the Munich Intellectual Property Law Center (MIPLC) is technology protection through patents and trade secrets along with their exploitation (license agreement law) and enforcement (procedural law).
Professor Ann studied law, history and Romance languages at the Universities of Bayreuth and Erlangen and at Duke University School of Law in Durham (USA). After receiving his PhD from the University of Bayreuth and completing his practical legal training at the Nuremberg Regional Appeal Court he worked as an attorney. Having acquired his postdoctoral teaching qualification (habilitation) in Tübingen (1998) he was Professor for Industrial Property Law and Intellectual Property at the University of Freiburg in Breisgau and a part-time judge in the Patent Law Division of the Mannheim Regional Appeal Court (2001-2003) before taking up his appointment at TUM in 2003. He has refused appointments to prestigious universities, including the Emory University School of Law (Atlanta, USA). Professor Ann has been a visiting professor in the USA, Australia, France and Hungary. He has published more than 130 articles. He is the liaison professor for the Studienstiftung des Deutschen Volkes (German National Academic Foundation).
Awards
Best Teaching Award, TUM School of Management (2008)
Best Teaching Award, TUM School of Management (2006)
Key Publications
Ann C, Hauck R, Maute L: Auskunftsanspruch und Geheimnisschutz im Verletzungsprozess. Köln: Verlag Carl Heymanns. 2011.
Abstract
Ann C, Loschelder M, Grosch M: Praxishandbuch Know-how-Schutz. Köln: Verlag Carl Heymanns. 2010.
Abstract
Ann C, Barona A: Schuldrechtsmodernisierung und gewerblicher Rechtsschutz. Köln: Verlag Carl Heymanns. 2002.
Ann C: Die Erbengemeinschaft. Köln: Verlag Carl Heymanns. 2001.
Abstract
Ann C: Die Produkthaftung des Lizenzgebers. Köln: Verlag Carl Heymanns. 1990
print view