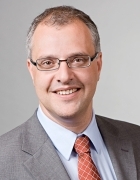 Academic Career and Research Areas
Prof. Bausch (b. 1970) conducts research in the area of cellular biophysics. His work targets a quantitative understanding of the mechanical properties of the cytoskeleton and the microscopic mechanisms of self-organization. He also researches the identification and physical characterization of new biomimetic materials. After studying physics at TUM and the Université de Montréal, he received his doctorate at TUM (1999). An Emmy Noether scholarship enabled him to study at Harvard University under Prof. D. Weitz. After receiving many invitations from around the world, Prof. Bausch accepted the Chair of Cellular Biophysics at TUM in 2008.
Awards
Akademiepreis der Berlin-Brandenburgischen Akademie der Wissenschaften (2014)
ERC Advanced Grant (2012)
ERC Starting Grant (2011)
Key Publications
Schaller V, Weber C, Semmrich C, Frey E, Bausch AR: "Polar Patterns of driven Filaments". Nature. 2010; 467, 73-77.
Abstract
Rammensee S, Slotta U, Scheibel T, Bausch AR: "Assembly mechanism of recombinant spider silk proteins". PNAS. 2008; 105: 6590-6595.
Abstract
Claessens MMAE, Bathe M, Frey E, Bausch AR: "Actin-binding proteins sensitively mediate actin bundle stiffness". Nature Materials. 2006; 5: 748-753.

print view