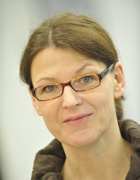 Academic Career and Research Areas
Professor Behrends (b. 1963) conducts research in the field of infection immunology and immunotherapy. The focus of her research work is the analysis of adaptive immune responses to the oncogenic Epstein-Barr virus (EBV). The objective of this research is the development of new strategies for the diagnosis, therapy and prevention of EBV-associated diseases.
After studying medicine in Göttingen, Lübeck, Munich, Glasgow and New Orleans she continued her academic career at the Helmholtz Center Munich and completed her training leading to German medical board certification in general pediatrics, adolescent medicine and pediatric hematology in the Department of Pediatrics of TUM's university hospitals. Since 2001 Professor Behrends has headed a clinical cooperation group based in TUM's Department of Pediatrics and the Helmholtz Center Munich. She joined TUM as a full professor in 2010.
Linnerbauer S, Adhikary D, Witter K, Bornkamm G, Behrends U, Mautner J: "Virus and autoantigen-specific CD4+ T cells are key effectors in a SCID mouse model of EBV-associated post-transplant lymphoproliferative disorders". PLoS pathog. 2014; 10(5): e1004068.
Abstract
Adhikary D, Behrends U, Feederle R, Delecluse HJ, Mautner J: "Standardized and highly efficient expansion of Epstein-Barr virus-specific CD4+ T cells by using virus-like particles". J Virol. 2008; 82(8): 3903-11.
Abstract
Milosevic S, Behrends U, Adhikary D, Mautner J: "Identification of major histocompatibility complex class II-restricted antigens and epitopes of the Epstein-Barr virus by a novel bacterial expression cloning approach". J Virol. 2006; 80(21): 10357-64.
Abstract
Adhikary D, Behrends U, Moosmann A, Witter K, Bornkamm GW, Mautner J: "Control of Epstein-Barr virus infection in vitro by T helper cells specific for virion glycoproteins". J Exp Med. 2006; 203(4): 995-1006.
Abstract
Mautner J, Pich D, Nimmerjahn F, Milosevic S, Adhikary D, Christoph H, Witter K, Bornkamm GW, Hammerschmidt W, Behrends U: "Epstein-Barr virus nuclear antigen 1 evades direct immune recognition by CD4+ T helper cells". Eur J Immunol. 2004; 34(9): 2500-9.
Abstract
print view