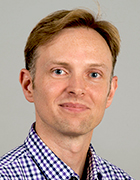 Prof. Dr. J. Philipp Benz
Academic Career and Research Areas
The research area of Professor Benz is the processes used by filamentous fungi to degrade biomass, with a focus on wood as a substrate. These are of particular interest for the generation of bioenergy from wood as a renewable feedstock, but also for the development of novel fungicides. The central questions addressed by the research group are how fungi perceive the composition of the plant cell walls on a molecular level and how they adapt their metabolism to effectively degrade the substrate. These issues are elucidated using state-of-the-art biochemistry and genetic techniques.
Professor Benz (b. 1977) studied biology at TU Braunschweig (2003). The research work for his thesis was done in the laboratory of Professor Crawford at UC San Diego (CA, USA). He subsequently acquired his PhD from LMU Munich, working in the research group of Professor Soll (Department of Biochemistry and Physiology of Plants) (2009). He then returned to the USA to become a postdoctoral fellow in the laboratory of Professor Somerville at the Energy Biosciences Institute (UC Berkeley, CA, USA) where he worked on filamentous fungi. Professor Benz has been an assistant professor (tenure track) at TUM since August 2014.
Awards
Feodor Lynen Research Fellowship for postdoctoral researchers, Alexander von Humboldt Foundation (2011-2012)
Graduate Student Fellowship, German National Academic Foundation
Key Publications
Benz JP, Protzko RJ, Andrich JMS, Bauer S, Dueber JE, Somerville CR: "Identification and characterization of a galacturonic acid transporter from Neurospora crassa and its application for Saccharomyces cerevisiae fermentation processes". Biotechnology for Biofuels. 2014; 7: 20.
Abstract
Benz JP, Chau BH, Zheng D, Bauer S, Glass NL, Somerville CR: "A comparative systems analysis of polysaccharide-elicited responses in Neurospora crassa reveals carbon source-specific cellular adaptations". Molecular Microbiology. 2013; 91(2): 275-299.
Abstract
Alte F, Stengel A, Benz JP, Petersen E, Soll J, Groll M, Bölter B: "Ferredoxin:NADP(H) Oxidoreductase is recruited to thylakoids by binding to a poly-proline type II helix in a pH-dependent manner". PNAS. 2010; 107(45): 19260-19265.
Abstract
Benz JP, Lintala M, Soll J, Mulo P, Bölter B: "A new concept for ferredoxin-NADP(H) oxidoreductase binding to plant thylakoids". Trends Plant Sci. 2010; 15(11):608-613.
Abstract
Benz JP, Stengel A, Lintala M, Lee YH, Weber A, Philippar K, Guegel IL, Kaieda S, Ikegami T, Mulo P, Soll J, Bölter B: "Arabidopsis Tic62 and ferredoxin-NADP(H) oxidoreductase form light-regulated complexes that are integrated into the chloroplast redox poise". Plant Cell. 2009; 21(12): 3965-3983.
Abstract
print view