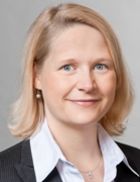 Prof. Dr. Sonja Berensmeier
Academic Career and Research Areas
Professor Berensmeier (b. 1976) conducts research in biological product treatment and its process integration. Her work focuses on the synthesis of magnetic particles tailored for a wide array of separation tasks in industrial biotechnology and their use in the filtration of high and low molecular weight biological products in process engineering.
After graduating in biotechnology and biology at the Technical University of Braunschweig, she earned her doctorate degree at the university's Institute for Chemical Engineering (2003). From 2004 to 2009, she led the Biofunctional Surfaces group at the Karlsruhe Institute for Technology and in 2008 she accepted a professorship at Mannheim University. At the end of 2009, she was appointed associate professor of selective separation technology at TUM. She has acquired international experience at Iowa State University (USA) and at the Swiss Federal Institute of Technology Zurich.
Heyd M, Weigold P, Franzreb M, Berensmeier S: "Influence of different magnetites on properties of magnetic Pseudomonas aeruginosa immobilisates used for biosurfactant production". Biotechnol. Prog. 2009; 25(6): 1620-1629.
Abstract
Stankiewicz N, Gold A, Yüksel Y, Berensmeier S, Schwartz Th: "In vivo labeling and specific magnetic bead separation of RNA for biofilm characterization and stress-induced gene expression analysis in bacteria". J. Microbiol. Methods 2009; 79(3): 344-352
Abstract
Meyer A, Berensmeier S, Franzreb M: "Demonstration of an automated process for direct protein capture by means of lactoferrin isolation from whey using high-gradient magnetic separation". Reactive & Functional Polymers 2007; 67: 1577–1588.
Berensmeier S, Buchholz K: "Separation of isomaltose from high sugar concentrated enzyme reaction mixture by dealuminated beta-zeolite". Separation and Purification Technol. 2004; 38: 129-138.
Berensmeier S, Ergezinger M, Bohnet M, Buchholz K: "Design of immobilised dextransucrase for fluidised bed application". J. Biotechnol. 2004; 114(3): 255-267.
Abstract
print view