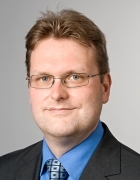 Prof. Dr. Heinz Bernhardt
Academic Career and Research Areas
Prof. Bernhardt's research field is technology in agricultural science. His system-oriented approach studies the interaction of technology and procedures. He focuses on sensor-guided precision agriculture, agricultural logistics, electromobility and milking technology.
Prof. Bernhardt (b. 1974) studied agricultural science at Justus-Liebig University in Giessen. He did his doctorate and lecturing qualification in agricultural logistics and the technological implementation of quality management systems at the Institut für Landtechnik in Giessen. After lecturing in Kiel and acting as interim professor in Giessen, he was appointed to the Chair of Agricultural Systems Engineering at TUM in 2008.
Key Publications
Bernhardt H: "Qualitätssicherung (Rückverfolgbarkeit) in der Innenwirtschaft". In: Agrartechnik 2011. Editor: Harms H-H; 2011; 49-54.
Bernhardt H: "Zusammenhänge und Überblick zu Kontrolle und Zertifizierungen". In: Landwirtschaft = QM Qualitätsmanagement im Lebens- und Futtermittelsektor. Editor: Seufert H. 2008:167-174.
Bernhardt H: Verfahrenstechnische Konsequenzen zur Bewältigung ordnungspolitischer Vorgaben und Handelsnormen bei der Getreideproduktion unter Einbeziehung der Mykotoxinproblematik. Göttingen, Cuvillier Verlag, 2007.
Bernhardt H: Schüttguttransporte in landwirtschaftlichen Betrieben Deutschlands. Göttingen, Cuvillier Verlag, 2002.
print view