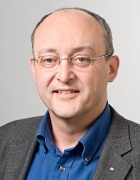 Academic Career and Research Areas
Prof. Bletzinger (b. 1958) researches computer-oriented methods for the static-dynamic calculation, simulation and optimization of load-bearing structures. His focus lies on developing finite element methods for form finding, form optimization and the cutting of light shell and membrane structures. Major deformations, non-linear load-bearing performance, anisotropic materials made of textiles and composites and interaction with flowing media are part of the research. Typical applications include form finding and analysis of textile, wind-blown membrane roofs, the form, beading and layer optimization of stiffened shells and the form optimization of pipes. This work is applied in the building trade, automotive engineering, aircraft construction and wind engineering.
Prof. Bletzinger studied civil engineering in Stuttgart and Calgary (Canada). He achieved his doctorate in 1990 at the University of Stuttgart. In 1996, he accepted the Associate Professorship of Numerical Methods in Statics at the University of Karlsruhe. In fall 1999, he was appointed to the Chair of Structural Analysis at TUM.
Awards
Goldener Ehrenring und Ehrenmitgliedschaft des VDI (1995)
Bletzinger K.U, Firl M, Linhard J, Wüchner R: "Optimal shapes of mechanically motivated surfaces". Comp. Meth. Appl. Mech. Engng. 2010; 199: 324-333.
Abstract
Kiendl J, Linhard J, Wüchner R, Bletzinger KU: "Isogeometric shell analysis with Kirchhoff-Love elements". Comp. Meth. Appl. Mech. Engng. 2009; 198: 3902-3914.
Abstract
Wüchner R, Kupzok A, Bletzinger KU: "A framework for stabilized partitioned analysis of thin membrane-wind interaction". Int. J. Num. Meth. Fluids. 2007; 54: 945-963.
Abstract
Bletzinger KU, Bischoff M, Ramm E: "A unified approach for shear-locking-free triangular and rectangular shell finite elements". Computers & Structures. 2000; 75: 321-334.
Abstract
Bletzinger KU, Ramm E: "A General Finite Element Approach to the Form Finding of Tensile Structures". Int. Journal of Space Structures. 1999; 14: 131-145.
Abstract
print view