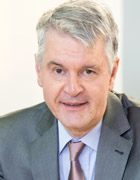 Prof. Dr.-Ing. Thomas Bock
Academic Career and Research Areas
The research activities of Prof. Bock (b. 1957) center on automation and robotics in construction. All stages are examined, from planning through building activity and useful life to renovation and demolition.
After studying architecture at the University of Stuttgart and the IIT in Chicago, Prof. Bock did his doctorate at the University of Tokyo. He is the director at the International Association for Automation and Robotics in Construction in Eindhoven, the Asian Habitat Society in Beijing and the International Institute of Construction Information in Tokyo. Prof. Bock is an advisor to the French Ministère de l'Emploi, de la Cohésion Sociale et du Logement . He is a member of the Russian Academy of Architecture and Construction Sciences, the Russian Academy of Sciences and the National Academy of Sciences of Belarus . Prof. Bock is also involved in editing "Robotica", "Automation in Construction", the "International Journal of Construction Management" and the journal "ACADEMIE".
Awards
Tucker Hasegawa Award des IAARC (2008)
Distinguished Fellow der Universität Tokio (2007)
10. Ehrenprofessor an der Südrussischen Staatlichen Technischen Universität, vormals Politechnisches Institut (2002)
Goldmedaille der Akademie für Architektur und Bauwissenschaften der GUS für eine Monographiereihe über Bauautomatisierung und -robotik (2001)
Stipendium der japanischen Regierung (1984-1989)
Key Publications
Bock T, Linner T: "DCR Demografic Change Robotics". Introduction to Modern Robotics. 2010, in press.
Bock T: "Das Dach wird zuerst gebaut – und das Erdgeschoss zuerst rückgebaut". Bauingenieur. 2009; 8:447-455.
Bock T: "Construction robotics". Autonomous Robots. 2007; 22(3): 201-209.
Abstract
Bock T: "Die letzte Herausforderung: Mobiles Bauen im Weltraum/The ultimate challenge: mobile construction in space". Detail. 1998; 8: 1381-1385.
Bock T: "Robot Oriented Design". Architectural Product Engineering. 1988; 271: 65-72.
print view