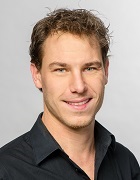 Academic Career and Research Areas
The research group of Job Boekhoven (b. 1984) aims at developing conceptually new supramolecular materials through non-equilibrium self-assembly. The platforms developed in the lab will be used for a wide range of applications, including healthcare and robotics. Research in the group is heavily bio-inspired and uses organic, physical and supramolecular chemistry as its toolboxes.
Boekhoven holds an undergraduate degree in chemistry from the University of Groningen, where he majored in organic chemistry, and a PhD degree (2012) in chemistry from Delft University of Technology, both in the Netherlands. Before his appointment at TUM, he was a Rubicon postdoctoral fellow at Northwestern University in Chicago. In January 2016 Boekhoven was appointed Rudolf Mößbauer Professor at TUM, heading a research group in supramolecular materials.
Awards
JSP Fellowship by the Swiss Chemical Society (2018)
Thieme Organic Chemistry Journals Award (2017)
Rising Star Award, Northwestern University Simpson Querrey Institute (2015)
NWO Rubicon Postdoctoral Fellowship (2012)
COST Scientific Mission Award (2008)
Tena-Solsona M, Rieß B, Wanzke C, Bausch AR, Boekhoven
 J: "Self-selection of dissipative assemblies from primitive chemical reaction networks
". Nature Commun. 2018; 9: 2044.
Abstract
Grötsch RK, Angı A, Mideksa YG, Wanzke C, Tena-Solsona M, Feige MJ, Rieger B, Boekhoven J: "Dissipative Self-Assembly of Photoluminescent Silicon Nanocrystals". Angew. Chem. Int. Ed. 2018; 57(44): 14608.
Abstract
Tena-Solsona M, Rieß B, Grötsch RK, Löhrer FC, Wanzke C, Käsdorf B, Bausch AR, Mueller-Buschbaum P, Lieleg O, Boekhoven J: "Non-equilibrium dissipative supramolecular materials with a tunable lifetime". Nature Commun. 2017; 8: 15895.
Abstract
Boekhoven J, Hendriksen W, Koper G, Eelkema R, van Esch, J: "Transient assembly of active materials fueled by a chemical reaction". Science. 2015; 349(6252): 1075-1079.
Abstract
Boekhoven J, Poolman J, Maity C, Li F, van der Mee L, Minkenberg C, van Esch J, Eelkema, R: "Catalytic control over supramolecular gel formation". Nature Chemistry. 2013; 5: 433-437.
Abstract