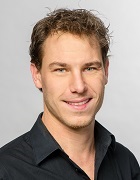 Academic Career and Research Areas
The research group of Job Boekhoven (b. 1984) aims at developing conceptually new supramolecular materials through non-equilibrium self-assembly. The platforms developed in the lab will be used for a wide range of applications, including healthcare and robotics. Research in the group is heavily bio-inspired and uses organic, physical and supramolecular chemistry as its toolboxes.
Boekhoven holds an undergraduate degree in chemistry from the University of Groningen, where he majored in organic chemistry, and a PhD degree (2012) in chemistry from Delft University of Technology, both in the Netherlands. Before his appointment at TUM, he was a Rubicon postdoctoral fellow at Northwestern University in Chicago. In January 2016 Boekhoven was appointed Rudolf Mößbauer Professor at TUM, heading a research group in supramolecular materials.
Awards
NWO Rubicon Postdoctoral Fellowship (2012)
COST Scientific Mission Award (2008)
Tantakitti F*, Boekhoven J,* Wang X, Kazantsev R, Yu T, Li J, Zhuang E, Zandi R, Ortony J, Newcomb C, Palmer L, Olvera de la Cruz M, Schatz G, Stupp S: "Energy landscapes and functions of supramolecular systems". Nature Materials. 2016; 349(6252): 1075-1079.
Abstract
Boekhoven J, Hendriksen W, Koper G, Eelkema R, van Esch, J: "Transient assembly of active materials fueled by a chemical reaction". Science. 2015; 349(6252): 1075-1079.
Abstract
Boekhoven J, Stupp S: "Supramolecular Materials for Regenerative Medicine". Advanced Materials. 2014: 1642-1659.
Abstract
Boekhoven J, Rubert C, Sur S, Worthy A, Stupp S: "Dynamic Display of Bioactivity through Host–Guest Chemistry". Angew. Chem. Int. Ed. 2013; 52(46): 12077-12080.
Abstract
Boekhoven J, Poolman J, Maity C, Li F, van der Mee L, Minkenberg C, van Esch J, Eelkema, R: "Catalytic control over supramolecular gel formation". Nature Chemistry. 2013; 5: 433-437.
Abstract
print view