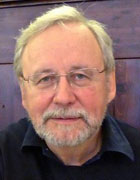 Academic Career and Research Areas
Professor Brügge's (b. 1951) research interests include software and usability engineering, in particular tools and processes for the development of workable systems for small mobile devices. The content of this research involves methodological capture of the clients' requirements, rational management and the use of efficient methods in project management and development processes. His main emphasis in his teaching is to involve students at an early stage in the development of complex systems for clients' real-life situations.
Professor Brügge studied computer science at the University of Hamburg. After completing his first degree in 1978, he received a Master of Science from Carnegie Mellon University (CMU) and subsequently also a PhD from the same university. He then went on to take up a post at TUM. Since 1997 Professor Brügge has also held an associate professorship position at CMU. From 2000 to 2003 he was a member of the Deutsche Telekom research committee. He has been a member of the research committee of "Münchner Kreis", a nonprofit association, since 2003 and member of the CIO Colloquium scientific advisory board since 2009. Professor Brügge is also the liaison professor for the Studienstiftung des Deutschen Volkes (German National Academic Foundation).
Awards
Herbert Simon Teaching Award Carnegie Mellon University (1985)
Recipient of a scholarship from the Patriotische Gesellschaft, a Hamburg-based association for the promotion of arts, manufacture and commerce (1975-1979)
German National Academic Foundation (1972-1978)
State champion in the German youth science competition "Jugend forscht": mathematics/computer science (1972)
Key Publications
Thurimella AK, Bruegge B: "Issue-based Variability Management". Journal of Infor-mation and Software Technology. 2012, 54(9): 933-950.
Bruegge B, Dutoit AH: Object-Oriented Software Engineering Using UML, Patterns, and Java. Englewood Cliffs, NJ: Prentice Hall, 2009.
Loehr A, Bruegge B: "Mixed-Initiative Dialog Management for Speech-based Interaction with Graphical User Interfaces". Proceeding of the 26th SIGCHI conference on Human factors in computing systems. 2008; Florence, Italy; Vol. 2: 979-988.
Bruegge B, Dutoit AH, Wolf T: "Sysiphus: Enabling informal collaboration in global software development". Proceedings of the IEEE international conference on Global Software Engineering. 2006; Costão do Santinho, Florianópolis, Brazil, 139-148.
Dutoit AH, Bruegge B: "Communication Metrics for Software Development". IEEE Transactions on Software Engineering. 1998; 24(8): 102-110.
print view