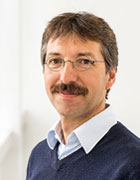 Academic Career and Research Areas
Prof. Busch (b. 1966) conducts research into infection immunology with the goal of identifying therapeutically useful defense mechanisms. His work centers on antigen-specific T cells and the development of new technologies to make immune cells usable for diagnostic and cell therapy applications.
After studying medicine in Mainz and Freiburg (1993) and completing his doctorate (1993), Prof. Busch commenced his clinical infectiological training in pediatrics (Würzburg, 1993-1996). A German Research Foundation scholarship gave him the opportunity to study under Prof. Eric Pamer at Yale University (1996-1999). He qualified as a lecturer in 2003 and completed his residency in medical microbiology and epidemiology of infection (2005) at TUM. Prof. Busch heads up the "Antigen-Specific Immunotherapy" clinical cooperation group (Helmholtz Zentrum München and TUM) and the IAS focus group "Clinical Cell Processing and Purification". He has held the position of director of TUM's Institute for Medical Microbiology, Immunology and Hygiene since 2009.
Awards
Wilhelm Vaillant-Preis (2003)
Robert Koch Postdoktoranden-Preis (2002)
Sir Hans Krebs-Preis, Hannover (2002)
Gerhard Hess-Forschungspreis der DFG (2000)
Howard Hughes Medical Institute Postdoc Fellowship (1999)
Key Publications
Stemberger C, Huster H, Koffler M, Anderl F, Schiemann M, Wagner H, Busch DH: "A single naive CD8+ T cell precursor can develop into diverse effector and memory subsets". Immunity. 2007; 27(6): 985-997.
Abstract
Neuenhahn M, Kerksiek KM, Nauerth M, Suhre MH, Schiemann M, Gebhardt FE, Stemberger C, Panthel K, Schröder S, Chakraborty T, Jung S, Hochrein H, Rüssmann H, Brocker T, Busch DH: "CD8alpha-positive dendritic cells are required for efficient entry of Listeria monocytogenes into the spleen". Immunity. 2006; 25(4): 619-630.
Abstract
Knabel M, Franz TJ, Schiemann M, Wulf A, Villmow B, Schmidt B, Bernhard H, Wagner H, Busch DH: "Reversible MHC multimer staining for functional isolation of T cell populations and effective adoptive transfer". Nature Medicine. 2002; 8: 631-637.
Abstract
Busch DH, Pilip IM, Vijh S, Pamer EG: "Coordinate regulation of complex T cell populations responding to bacterial infection". Immunity. 1998; 8: 353-362.
Abstract
print view