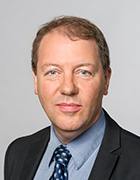 Prof. Dr. Ir. Walter Timo de Vries
Academic Career and Research Areas
The research of Walter Timo de Vries focuses on responsible and smart land (information) management and administration, using socio-technical and organizational methods.
With degrees in both geodesy (TU Delft) and public administration (Erasmus University Rotterdam) his work experience has been primarily in and for developing countries, usually in collaboration with national land agencies and universities. In 1989 he contributed to a land reclamation project in Indonesia and moved to Geneva in 1992 where he continued working for UNITAR. In 1994 he joined ITC (International Institute of Geo-Information Science and Earth Observation), which later became a department of the University of Twente. His research work at this institute focused on geo-information in socio-organizational contexts and land information infrastructures. De Vries has coordinated various educational programs related to land administration and supervised more than 80 students. He is senior editor of the Electronic Journal of Information Systems in Developing Countries (EJISDC).
de Vries WT, Bennett RM, Zevenbergen JA: "Toward responsible land administration, Chapter 1". In: Advances in responsible land administration. Editors: Zevenbergen J, de Vries WT, Bennett RM. CRC Press, forthcoming.
Abstract
de Vries WT, Ester H: "Inter-organizational transactions cost management with public key registers: findings from the Netherlands". International journal of public administration in the digital age. 2015; 2(2): 23-34.
Abstract
de Vries WT, Bennett RM, Zevenbergen JA: "Neo - cadastres: innovative solution for land users without state based land rights, or just reflections of institutional isomorphism?". Survey review. 2015: 47(342): 220-229.
Abstract
de Vries WT, Crompvoets J, Stoter J, vandenBerghe I: "Atlas of INSPIRE: evaluating SDI development through an inventory of INSPIRE experiences of European national mapping agencies". International journal of spatial data infrastructures research: IJSDIR. 2011; 6: 126-144.
Abstract
de Vries WT, Lewis J: "Are urban land tenure regulations in Namibia the solution or the problem?". Land use policy. 2009; 26(4): 1116-1127.
Abstract
print view