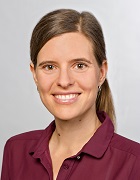 Prof. Dr. Yolanda Demetriou
Assistant Professor
Educational Science in Sport and Health
Academic Career and Research Areas
Professor Demetriou's (b. 1983) research is located in the field of sport and education science. The synthesis of systematic reviews along with the design and evaluation of intervention studies enable her to establish evidence-based findings relating to the competencies students should develop through physical education. Her current research deals with the promotion of students' physical literacy and analyses the role and effects of the health-related fitness knowledge that students should gain within physical education.
Professor Demetriou studied sport science, pedagogics and psychology at the University of Freiburg (Magister Artium). Subsequently, she was an academic assistant at the Institute of Sports Science at the Eberhard Karls University, Tübingen and received a PhD in 2012. Professor Demetriou has been a professor of educational science in sport and health at TUM since 2014.
Awards
German Association of Sport Science publication award "Sportwissenschaftlicher Nachwuchs" (young researchers in sports science) (2013)
Key Publications
Demetriou Y, Sudeck G, Höner O: "Indirekte Gesundheitseffekte des Unterrichtsprogramms "HealthyPEP": Ergebnisevaluation unter Berücksichtigung der Programminhalte und des Implementierungsgrades im Sportunterricht". Sportwissenschaft. 2014; 44(2): 86-98.
Höner O, Demetriou Y: "Effects of a health-promotion programme in sixth grade German students' physical education". European Journal of Sport Science. 2014; 14(Suppl. 1): 341-351.
Demetriou Y: Health promotion in physical education. Development and evaluation of the eight week PE programme "HealthyPEP" for sixth grade students in Germany. Hamburg: Czwalina, 2013.
Demetriou Y, Höner O: "Physical activity interventions in the school setting: A systematic review". Psychology of Sport and Exercise. 2012; 13(2): 186-196.
Höner O, Demetriou Y: "Körperlich-sportliche Aktivität und gesundheitsbezogene Lebensqualität". In Seelische Gesundheit und sportliche Aktivität. Editors: Fuchs R, Schlicht W. Göttingen: Hogrefe, 2012: 34-55.
print view