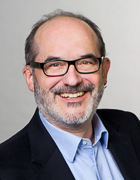 Prof. Dr.-Ing. Klaus Diepold
Academic Career and Research Areas
Prof. Diepold (b. 1961) conducts research into audio and video signal processing and coding, assessment of subjective video quality (quality of experience), multivariate data analysis and data mining. His other interests are design of fast algorithms based on time-varying system theory and computational linear algebra, machine learning for cognitive systems (CoTeSys), directional hearing and 3D sound synthesis for robotics and telepresence systems and technology transfer.
After studying electrical engineering and information technology and completing his doctorate (1992) at TUM, Prof. Diepold worked as a scientist and entrepreneur in the video and television industry in Munich and New York. For over 10 years, he played an active role in the development of MPEG standards (MPEG-4, MPEG-A). In 2002, he accepted the Chair of Data Processing at TUM. Between 2005 and 2010, he held the position of Dean of Studies. He was a visiting professor at the University of Alberta, Canada and NICTA, Australia. Prof. Diepold is a member of the supervisory board of the Center for Digital Technology and Management (CDTM) and the "Cognition for Technical Systems" (CoTeSys) cluster of excellence. From 2013 to 2015 Prof. Diepold served as Senior Vice President for Diversity and Talent Management.
Awards
Fellowship for Innovation in University Teaching, Stifterverband für die Deutsche Wissenschaft (2012)

Certificate of Appreciation, ISO/IEC for work on MPEG-A (2008)

TUM Teaching Prize (2004)

Award for most innovative software product for "MotionPerfect" (2001)

Best Paper Award Society for Information Technology (ITG) (1992)
Key Publications
Sarkis M, Diepold K: "Content Adaptive Mesh Representation of Images using Binary Space Partitions". IEEE Transactions on Image Processing. 2009; 18(5): 1069-1079.
Abstract
Oelbaum T, Keimel C, Diepold K: "Rule-Based No-Reference Video Quality Evaluation Using Additionally Coded Videos". IEEE Journal of Selected Topics in Signal Processing. 2009; 3(2): 2294-2303.
Abstract
Keyrouz F, Diepold K: "Binaural source localization and spatial audio reproduction for telepresence applications". Presence Journal. MIT Press. 2007; 16(5): 509-522.
Abstract
Diepold K, Pereira F, Chang W: "MPEG-A: Multimedia Application Formats". IEEE MultiMedia. 2005; 12(4): 34-41.
Abstract
Dewilde P, Diepold K, Bamberger W: "Optic flow computation and time-varying system theory". Proceedings of the International Symposium on Mathematical Theory of Networks and Systems (MTNS), Leuven, 2004.
print view