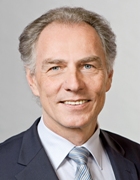 Prof. Dr.-Ing. Klaus Drechsler
Academic Career and Research Areas
Prof. Drechsler's research fields are in the areas of materials science, structural mechanics, manufacturing technology and fiber-reinforced materials (carbon composites).
Prof. Drechsler (b. 1960) studied aeronautic and aerospace engineering at the University of Stuttgart. He also completed his doctorate there in 1991 on the topic, "On the design and calculation of bonded fiber materials with three-dimensional textile reinforcement". Following a period as an assistant at the university's Institute for Aircraft Design, he joined the central laboratory of Messerschmitt-Bölkow-Blohm in Ottobrunn. There, he held the position of senior scientist and head of department for the Plastics division at DaimlerChrysler and EADS. In 2002, he accepted the positions of Director and Chair of the Institute for Aircraft Design of the University of Stuttgart. Since 2009, he has held the newly-created position of Chair of Carbon Composites at TUM. He is also director of the Fraunhofer Functional Lightweight Design Group in Augsburg.
Awards
Aufnahme in die sächsische Akademie der Wissenschaft (2010)
SAMPE Fellow Award (2008)
Aufnahme in den WAK (2004)
Key Publications
Drechsler K, Birkefeld K, Bulat M, von Reden T: "Characterization of biaxial and triaxial braids: Fibre architecture and mechanical properties". In: Applied Composite Materials. 2011.
Fischer S, Drechsler K, Kilchert S, Johnson A: "Mechanical tests for foldcore base material properties". Composites Part A: Applied Science and Manufacturing. 2009; 40(12): 1941-1952.
Abstract
Thumm M, Drechsler K, Feher L: "Gigaherz and Nanotubes – Perspectives for Innovations with Novel Industrial Micro-wave Processing Technologies". Advanced Engineering Materials. 2006; 8(1-2): 26-32.
Drechsler K, Veldman SL, Bergsma OK, Beukers A: "Bending and optimisation of an inflatable braided beam". In: Thin-walled structures. 2005; 43(9): 1338-1354.
Abstract
print view