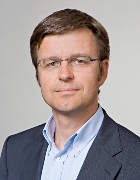 Prof. Dr. Stefan Hanns Engelhardt
Academic Career and Research Areas
Professor Engelhardt's research topics are located in the field of Signal Transduction in the Cardiovascular System.
Professor Engelhardt (born 1969) studied Medicine at the Universities of Regensburg, Munich and Harvard. After completing his MD at the MPI of Biochemistry and his PhD and a postdoctorate at the University of Würzburg, Professor Engelhardt led an junior research group at the DFG-Research Center for Experimental Biomedicine (Rudolf-Virchow-Center). Before joining TUM in 2008 he held a professorship of Pharmacology at Würzburg University.
Awards
Outstanding Achievement Award, European Society of Cardiology (2009)
Arthur-Weber Prize, German Cardiac Society (2006)
Oskar Lapp Prize, German Cardiac Society (2005)
Biology Prize, Academy of Science at the Universitiy of Göttingen (2004)
Hengstberger Prize, German Cardiac Society (2004)
Key Publications
Hulot JS, Fauconnier J, Ramanujam D, Chaanine A, Aubart F, Sassi Y, Merkle S, Cazorla O, Ouille A, Dupuis M, Hadri L, Jeong D, Muehlstedt S, Schmitt J, Braun A, Benard L, Saliba Y, Laggerbauer B, Nieswandt B, Lacampagne A, Hajjar R, Lompre AM & Engelhardt S: "A critical role for STIM1 in cardiac hypertrophy". Circulation. In press (August 2011).
Ahles A, Rochais F, Frambach T, Bünemann M & Engelhardt S: "A polymorphism-specific memory mechanism in the ß2-adrenergic receptor". Science Signaling. In press (August 2011).
Thum T, Gross C, Fiedler J, Fischer T, Kissler S, Bussen M, Galuppo P, Just S, Rottbauer W, Frantz S, Castoldi M, Soutschek J, Koteliansky V, Rosenwald A, Basson MA, Licht JD, Pena JT, Rouhanifard SH, Muckenthaler MU, Tuschl T, Martin GR, Bauersachs J & Engelhardt S: "MicroRNA-21 contributes to myocardial disease by stimulating MAP kinase signalling in fibroblasts". Nature. 2008; 456: 980-984.
Abstract
Rochais F, Vilardaga JP, Nikolaev VO, Bünemann M, Lohse MJ & Engelhardt S: "Real-time optical recording of β1-adrenergic receptor activation reveals supersensitivity of the Arg389 variant to carvedilol". J. Clin. Invest. 2007; 117: 29-235.
Abstract
Buitrago M, Lorenz K, Maass AH, Oberdorf-Maass S, Keller U, Schmitteckert EM, Ivashchenko Y, Lohse MJ & Engelhardt S: "The transcriptional repressor NAB1 is a specific regulator of pathological cardiac hypertrophy". Nat. Med. 2005; 11: 837-844.
Abstract
print view