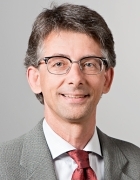 Academic Career and Research Areas
Prof. Dr. phil. Dietrich Erben (b. 1961) has held the Chair of Theory and History of Architecture, Art and Design since 2009. His main areas of research are the history of art and architecture since the early modern period. He focuses especially on political iconography, architectural theory and the history of international art relations.
Prof. Erben studied history of art, history and German language and literature at the University of Augsburg. He received his doctorate of philosophy in 1994. In 2002, he completed his lecturer qualification at the Swiss Federal Institute of Technology Zurich (Department of Architecture). From 2003 to 2009, he was professor of art history (specializing in the early modern period) at Ruhr-Universität Bochum. He has undertaken research in a number of European locations, including Paris, the German Study Center in Venice and the Kunsthistorisches Institut (Max Planck Institute) in Florence.
Awards
DFG Stipendium (1998)
Stipendium Kunsthistorisches Institut (Max-Planck-Institut) Florenz (1995)
Stipendium Deutsches Studien-Zentrum Venedig (1990)
Key Publications
Erben D: Die Kunst des Barock, München: C.H. Beck, 2008
Erben D: Komponistenporträts. Von der Renaissance bis zur Gegenwart. Stuttgart: Reclam, 2008
Erben D: Der steinerne Gast. Die Begegnung mit Statuen als Vorgeschichte der Betrachtung. Weimar: Verlag und Datenbank für Geisteswissenschaften, 2005.
Erben D: "Paris und Rom. Die staatlich gelenkten Kunstbeziehungen unter Ludwig XIV". Studien aus dem Warburg-Haus 9. Berlin: Akademie Verlag, 2004.
Erben D: "Bartolomeo Colleoni. Die künstlerische Repräsentation eines Condottiere im Quattrocento". Sigmaringen: Deutsches Studienzentrum in Venedig. Studi 15, 1996.
print view