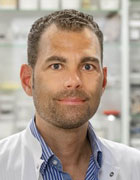 Academic Career and Research Areas
The field of research of Professor Eyer (b. 1971) is experimental and clinical toxicology. The aim of his research is to gain a better understanding of toxicokinetic and toxicodynamic processes and reappraise them using experimental and clinical models that reflect clinical conditions as closely as possible. Key aspects of his research are primary and secondary methods of poison elimination, addiction medicine and toxicological intensive care treatment.
After completing his undergraduate and doctoral studies (2000) at LMU Munich, Professor Eyer took up a position at TUM where he worked with Professor M. Classen in the field of gastroenterology and as of 2001 with Professor T. Zilker in the field of clinical toxicology. In 2007 he acquired his German medical board certification in internal medicine. He acquired an additional certification in internal intensive care medicine in 2009 and in addiction medicine in 2010. Professor Eyer obtained his postdoctoral teaching qualification (habilitation) in 2010 and became senior physician in the Department of Toxicology. His clinical specialities are critical care toxicology and addiction medicine. He was appointed professor in 2012.
Eyer F, Steimer W, Nitzsche T, Jung N, Neuberger H, Müller C, Schlapschy M, Zilker T, Skerra A: "Intravenous application of an Anticalin dramatically lowers plasma digoxin levels and reduces its toxic effects in rats". Toxicol Appl Pharmacol. 2012; 263(3): 352-359.
Abstract
Eyer F, Schuster T, Felgenhauer N, Pfab R, Strubel T, Saugel B, Zilker T: "Risk assessment of moderate to severe alcohol withdrawal – predictors for seizures and delirium tremens in the course of withdrawal". Alcohol & Alcoholism. 2011; 46(4): 427-433.
Abstract
Eyer F, Roberts DM, Buckley NA, Eddleston M, Thiermann H, Worek F, Eyer P: "Extreme variability in the formation of chlorpyrifos oxon (CPO) in patients poisoned by chlorpyrifos (CPF)". Biochem Pharmacol. 2009; 78(5): 531-537.
Abstract
Eyer F, Jung N, Neuberger H, Witte A, Poethko T, Henke J, Zilker T: "Seromuscosal transport of intravenously administered carbamazepine is not influenced by oral doses of activated charcoal in rats". Basic Clin Pharmacol Toxicol. 2008; 102(3): 337-346.
Abstract
Eyer F, Jung N, Neuberger H, Schulz R, Steiner K, Ladstetter B, Poethko T, Henke J, Zilker T: "Enteral exsorption of acetaminophen after intravenous injection in rats: influence of activated charcoal on this clearance path". Basic Clin Pharmacol Toxicol. 2007; 101(3): 163-171.
Abstract
print view