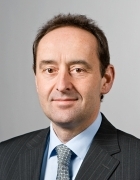 Prof. Dr.-Ing. Oliver Fischer
Academic Career and Research Areas
As part of its theoretical and experimental research, the Chair of Prof. Fischer (b. 1963) focuses on the application of novel high-performance materials in structural civil engineering (e.g. UHPC, fiber concrete, CFRP). Other areas include special load cases like fire and earthquakes, design issues in bridge and tunnel construction, the development of numerical methods for concrete structures and holistic assessment of civil engineering works.
After studying civil engineering at TUM, he was a research associate at the Universität der Bundeswehr München and did his doctorate in 1994. After that, he joined construction group Bilfinger Berger. There he was responsible for many large infrastructure projects and civil engineering works, as well as research and development projects. In 2002, he took over as general manager of their design services, a role with global responsibility. Prof. Fischer is a member of several expert panels and committees and has been lecturing to engineering students since 1999. In October 2009, he succeeded Prof. K. Zilch at TUM.
Awards
Research Prize (best dissertation) (1994)
Key Publications
Fischer O, Behnen G, Hestermann U: "Innovative Lösungen im internationalen Tunnelbau am Beispiel des Infrastrukturprojektes NSBT in Brisbane, Australien". Bauingenieur 84 - Jahresausgabe VDI – Bautechnik 2009/2010. 2010: 76-83.
Seiler C, Fischer O, Distl H, Braun C: "Semi-aktive Schwingungsdämpfer - Entwicklung und Anwendung einer neuen Technologie". Beton- und Stahlbetonbau 98. 2003; 10: 605-614.
König G, Dehn D, Fischer O, Krill A: "Hochfester Konstruktiver Leichtbeton - Bemessung und Konstruktion vorgespannter Bauteile". Beton- und Stahlbetonbau 95. 2000; 7: 392-414.
Abstract
Fischer O: "Formulierung und Lösung nichtlinearer kinetischer Stabilitätsgleichungen für gekrümmte und verwundene Stäbe". In: Forschungs- und Seminarberichte aus dem Gebiet Technische Mechanik und Flächentragwerke. Editor: Emmerling FA, Heinen AH. 1994
Heinen AH, Hennenberg H-M, Fischer O: "Kinetische Stabilität elastischer Schalentragwerke". Archive of Applied Mechanics 64. 1994; 64: 457-471
print view