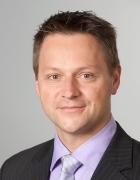 Prof. Dr.-Ing. Stephan Freudenstein
Academic Career and Research Areas
The main focus of Prof. Freudenstein's (b. 1969) research is the structural design of road and rail superstructure systems and aviation surfaces.
After studying civil engineering at TUM (1995) and working at Heilit + Woerner Bau AG, Prof. Freudenstein became a research associate at TUM's Chair of Traffic Route Construction in 1997. In 2002, he joined Pfleiderer Infrastrukturtechnik GmbH, now known as RAILONE GmbH, in Neumarkt in der Oberpfalz. While there, he headed up the technology and development department. He was responsible for prestressed concrete sleepers and the technical side of various slab track projects in Germany and farther afield. Since 2008, Prof. Freudenstein has been a full professor at the Chair of Traffic Route Construction at TUM and director of the test institute of the same name in Pasing, Munich.
Awards
Förderpreis Verkehrsbau der FGSV (2001)
Key Publications
Freudenstein S: "Die Entwicklung der Festen Fahrbahn in Betonbauweise als Fahrweg für den
Hochgeschwindigkeitsverkehr". BauPortal. 2010; 7: 47-50.
Freudenstein S, Maleki N, Iliev D: "Prüfung von Komponenten des Oberbaus nach europäischen
und amerikanischen Anforderungen". Eisenbahntechnische Rundschau. 2009; 4: 162-169.
Freudenstein S: "Innovative Lösungen für die Feste Fahrbahn GETRAC auf Asphalt". Der Eisenbahningenieur. 2005; 8: 28-32.
Freudenstein S, Boos R: "RAMS-Analyse der Festen Fahrbahn aus Sicht des Systemanbieters".
ZEVrail Glasers Annalen. 2004; 128(1-2): 32-47.
Abstract
Freudenstein S: "Bemessungsvarianten von Festen Fahrbahnen auf Erdkörper". Mitteilungen des Prüfamtes für Bau von Landverkehrswegen der Technischen Universität München. 2002; 77: 25-36.
print view