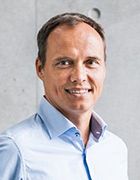 Academic Career and Research Areas
The research work of Professor Gerhard (b. 1968) explores how pathogens interact with the host in gastrointestinal infections. Professor Gerhard's research group investigates the mechanisms that suppress the immunoresponse of the host to allow the occurrence of infection and inflammatory factors involved in the development of cancer.
Professor Gerhard studied medicine in Heidelberg and Hamburg between 1988 and 1996. He earned his PhD in 1996 (summa cum laude). From 1997 to 2004 he completed his medical training leading to German medical board certification in internal medicine in the Department of Internal Medicine and Outpatient Care (II. Medizinische Klinik) at Klinikum rechts der Isar. From 2004 to 2006 he worked at the Netherlands Institute for Developmental Biology in the research group of Professor Hans Clevers. From 2006 he headed a research group in the Department of Internal Medicine and Outpatient Care (II. Medizinische Klinik) at Klinikum rechts der Isar, where he also acquired his postdoctoral teaching qualification (habilitation) in internal medicine in 2009. In 2010 he was appointed associate professor of medical microbiology and immunology at the Institute for Medical Microbiology and Immunology, a unit within TUM.
Awards
1. Preis des Münchener Businessplanwettbewerbes (2007)
Werner-Creutzfeldt-Forschungsstipendium der DGVS (2006)
Bayerischer Habilitationsförderpreise (2003)
Preis der European Helicobacter Pylori Study Group (2000)
Preis der Bayerischen Gesellschaft für Gastroenterologie (1999)
Key Publications
Fassi Fehri L, Koch M, Belogolova E, Khalil H, Bolz C, Kalali B, Mollenkopf HJ, Beigier-Bompadre M, Karlas A, Schneider T, Churin Y, Gerhard M, Meyer TF: "Helicobacter pylori induces miR-155 in T cells in a cAMP-Foxp3-dependent manner". PLoS One. 2010; Mar 2; 5(3): e9500.
Abstract
Schmees C, Prinz C, Treptau T, Rad R, Hengst L, Voland P, Bauer S, Brenner L, Schmid RM, Gerhard M: "Inhibition of T cell proliferation by v-glutamyl transpeptidase". Gastroenterolog. 2007; 132(5): 1820-33.
Abstract
Friedrich MJ, Rad R, Langer R, Voland P, Hoefler H, Schmid RM, Prinz C, Gerhard M.
"Lack of RUNX3 regulation in human gastric cancer". J Pathol. 2006; 210(2): 141-146.
Abstract
Gerhard M, Schmees C, Voland P, Endres N, Sander M, Reindl W, Rad R, Oelsner M, Decker T, Mempel M, Hengst L, Prinz C: "A secreted low molecular weight protein from H. pylori induces cell cycle arrest of T-cells". Gastroenterology. 2005; 128(5): 13i27-39.
Abstract
Aspholm-Hurtig M, Dailide G, Lahmann M, Kalia A, Ilver D, Roche N, Vikstrom S, Sjostrom R, Linden S, Backstrom A, Lundberg C, Arnqvist A, Mahdavi J, Nilsson UJ, Velapatino B, Gilman RH, Gerhard M, Alarcon T, Lopez-Brea M, Nakazawa T, Fox JG, Correa P, Dominguez-Bello MG, Perez-Perez GI, Blaser MJ, Normark S, Carlstedt I, Oscarson S, Teneberg S, Berg DE, Boren T: "Functional adaptation of BabA, the H. pylori ABO blood group antigen binding adhesin". Science. 2004; 305(5683): 519-22.
Abstract
print view