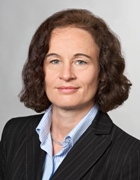 Academic Career and Research Areas
Professor Görlach (b. 1964) researches the role of oxygen, lack of oxygen, reactive oxygen and oxygen stress in the regulation of cell and organ function. She specializes in the field of cardiac, circulatory and vascular disease, inflammatory and tumor research.
Professor Görlach studied medicine in Munich and Bochum and completed her doctoral thesis at Max Planck Institute for Molecular Physiology in Dortmund. Following research at Scripps Research Institute in La Jolla, USA and at the University of Zurich, she acquired her postdoctoral teaching qualification in physiology in 2001 at the Johann Wolfgang Goethe University in Frankfurt. After this she took on the leadership of the Department for Experimental Paediatric Cardiology at the German Heart Centre Munich at TUM. Since 2009 she has been professor for experimental and molecular pediatric cardiology at TUM.
Awards
Gastprofessur, Universität Aix-Marseille, Frankreich (2009)
Otto Hahn-Medaille der Max-Planck-Gesellschaft (1992)
Lederle-Preis für Biomedizinische Forschung (1992)
Nick Mc Nally-Award der Internationalen Gesellschaft für Tumorhypoxie (1991)
De Castro-Heymans-Neil Award der Internationalen Gesellschaft für arterielle Chemorezeption (1991)
Key Publications
Görlach A, Lee P, Roesler J, Hopkins PJ, Christensen B, Green ED, Chanock SJ, Curnutte JT: "A p47-phox pseudogene carries the most common mutation causing p47-phox- deficient chronic granulomatous disease". J Clin Invest. 1997;100(8): 1907
Abstract
Görlach A, Brandes RP, Nguyen K, Amidi M, Busse R: "A gp91phox containing NADPH oxidase selectively expressed in endothelial cells is a major source of oxygen radical generation in the arterial wall". Circ Res. 2000; 87 (1): 26-32.
Abstract
Görlach A, Diebold I, Schini-Kerth VB, Berchner-Pfannschmidt U, Roth U, Brandes RP, Kietzmann T, Busse R: "Thrombin activates the HIF-1 signaling pathway in vascular smooth muscle cells. Role of the p22phox-containing NADPH oxidase".
Circ Res. 2001; 89(1):47-54.
Abstract
BelAiba RS, Djordjevic T, Bonello S, Lang F, Hess J, Görlach A: "The serum- and glucocorticoid-regulated kinase Sgk-1 promotes redox-sensitive upregulation of tissue factor by thrombin". Circ Res. 2006; 98 (6): 828-836.
Abstract
Diebold I, Djordjevic T, Petry A, Hatzelmann A, Tenor H, Hess J, Görlach A: "Phosphodiesterase 2 Mediates Redox-Sensitive Endothelial Cell Proliferation and Angiogenesis by Thrombin via Rac1 and NADPH Oxidase 2".
Circ Res. 2009; 104(10):1169-77.
Abstract
print view