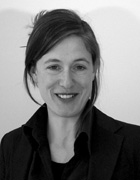 Academic Career and Research Areas
The department of Professor Graff (b. 1970) focuses on conceptual and experimental design practice as well as on the individual design process both from the perspective of the professional architect and from an interdisciplinary point of view. In a creative role you need to be able to think and work conceptually. The practice of drafting and designing and analyzing exemplary architectural works lay the foundations for an architect's understanding of his role and an involvement in the current architectural discourse.
Professor Graff studied architecture at TU Braunschweig and ETH Zurich. She has worked with Peter Zumthor in Switzerland and architects gmp – von Gerkan, Marg and Partners – in Berlin. She was a scientific staff member at Berlin University of the Arts (UdK) where she worked with Professor Grazioli and Professor Krischanitz and a visiting professor at China Academy of Art, Hangzhou. She also taught a seminar on sound studies at UdK, Berlin. From 2010 – 2012 she was professor of technical drafting and design at the University of Applied Sciences in Würzburg. Since October 2012 Professor Graff has headed the Department of Architectural Design and Conception in the Department of Architecture at TUM.
Awards
Cologne Architecture Prize (2017)
German Architecture Prize (2015)
DAM Award for Architecture in Germany (2015)
Wüstenrot Foundation Design Award (2014)
German Steel Construction Award, First Prize (2014)
Schlüsselpublikationen
Graff U: In Material gedacht / Thinking through Material. München: Verlag Edition Detail München, 2018.
Graff U: "Skizze, Zeichnung, Modell. Elementare Werkzeuge des architektonischen Entwerfens". Aviso, Zeitschrift für Wissenschaft und Kunst in Bayern. 2018 (1).
Abstract
Graff U: Räume / Spaces . München: Verlag der Technischen Universität München, 2015.
Graff U: "Struktur und Erscheinung – Transformation als Gestaltungsprinzip". In: Über Form und Struktur –Geometrie in Gestaltungsprozessen. Cornelie Leopold (Hrsg.), Wiesbaden: Springer, 2014: 21-32.
Graff U: Raumkunst - Kunstraum. Ein Projekt. München: Verlag der Technischen Universität München, 2013.