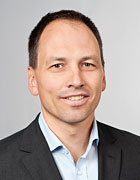 Academic Career and Research Areas
Professor Grunow conducts research on business operations planning and on designing production systems and networks using quantitative models. His focus is on specific areas of the process industry, including chemical, pharmaceutical and, in particular, food production and distribution.
Professor Grunow studied engineering management at TU Berlin, where he earned his PhD on the optimization of electronics assembly lines in 1999. He later conducted research at Degussa AG in Hanau, returning to TU Berlin to complete his postdoctoral teaching qualification (habilitation) in 2005. After several international appointments, he joined TU Denmark, where he led the Operations Management Department as of 2006. In autumn 2010 he was appointed professor of production and supply chain management at TUM, succeeding Professor Wildemann.
Awards
Associate Member International Academy of Production Engineering CIRP (2009)
Konrad-Mellerowicz-Preis (2001)
Hermann-Schlosser-Preis (2000)
Key Publications
Rong A, Akkerman R, Grunow M: "An optimization approach for managing fresh food quality throughout the supply chain". International Journal of Production Economics (available online)
Abstract
Boulaksil Y, Grunow M, Fransoo J: "Capacity flexibility allocation in an outsourced supply chain with reservation". International Journal of Production Economics. 2011; 129 (1): 111-118.
Abstract
Rong A, Grunow M: "A methodology for controlling dispersion in food production and distribution planning". OR Spectrum. 2010; 32 (4): 957-978.
Abstract
Akkerman R, Farahani P, Grunow M: "Quality, safety and sustainability in food distribution: A review of quantitative operations management research". OR Spectrum. 2010: 32 (4): 863-904.
Abstract
Grunow M, Günther HO, Yang G: "Plant co-ordination in pharmaceutics supply networks". OR Spectrum. 2003; 25 (1): 109-142.
Abstract
print view