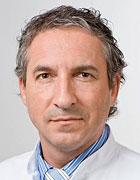 Prof. Dr. Jürgen Gschwend
Academic Career and Research Areas
The research interests of Professor Gschwend (b.1962) focus primarily on operative, clinical and experimental urooncology. He carries out research projects on the molecular oncology of the bladder and prostatic carcinoma focusing particularly on micrometastasis and signal transduction.
After completing his medical studies at LMU Munich and the University of Ulm and earning his PhD in 1988, Professor Gschwend continued his clinical training at the University Hospital in Ulm working with Professor Hautmann. A German Research Foundation (DFG) scholarship took him to the Memorial Sloan-Kettering Cancer Center in New York where he worked with Professor W.R. Fair (1995-1996). He acquired his postdoctoral teaching qualification (habilitation) in 1998 for his work on apoptosis induction in prostatic carcinoma. Since 2006 he has been a full professor of urology at TUM, having succeeded Professor Hartung's as chair of the department. Professor Gschwend is also a spokesperson for the Working Group for Urological Oncology (AOU) of the German Cancer Society (DKG), board member and guideline coordinator of the German Society of Urology (DGU), spokesperson for the Urological Oncology Research Group of the DGU and acting spokesperson for the Tumor Centre in Munich.
Awards
Lehrpreis der medizinischen Fakultät und der Fachschaft Medizin der TUM (2008)
Maximilian Nitze-Preis der Deutschen Gesellschaft für Urologie (2000)
Merckle-Forschungspreis der Universität Ulm (2000)
Key Publications
Hautmann RE, Gschwend JE, de Petriconi RC, Kron M, Volkmer BG: "Cystectomy for transitional cell carcinoma of the bladder: results of a surgery only series in the neobladder era". J Urol. 2006; 176(2): 486-492.
Abstract
Syrovets T, Gschwend JE, Büchele B, Laumonnier Y, Zugmaier W, Genze F, Simmet T: "Intercepting I-κB kinase activity triggers apoptosis in androgen-independent prostate cancer". J Biol Chem. 2005; 280(7): 6170-6180.
Gschwend JE, Dahm P, Fair WR: "Disease specific survival as endpoint of outcome for bladder cancer patients following radical cystectomy". Eur Urol. 2002; 41: 440-448.
Abstract
Maier S, Reich E, Martin R, Altug V, Hautmann RE, Gschwend JE: "Tributyrin induces differentiation, growth arrest and apoptosis in androgen-sensitive and androgen-resistant human prostate cancer cell lines". Int J Cancer. 2000; 88(2): 245-251.
Abstract
Gschwend JE, Fair WR, Powell CT: "Bryostatin 1 induces prolonged activation of extracellular regulated protein kinases in and apoptosis of LNCaP human prostate cancer cells overexpressing Protein Kinase C α". Mol Pharmacol. 2000; 57: 1224-1234.
Abstract
print view