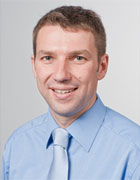 Academic Career and Research Areas
Prof. Haller (b. 1968) conducts research in the field of nutritional science. His aim is to gain a better understanding of the biomedical effects of nutritional factors and bacteria on chronic diseases with an inflammatory origin. Research is focused on the intestine as an immunologically active interface.
After studying both nutrition science and food technology at the University of Hohenheim, Prof. Haller completed his doctorate (1999) in microbiology and nutrition science. Following periods of research in Switzerland (Nestlé Forschungszentrum) and the USA (University of North Carolina), he received an Emmy Noether scholarship from the German Research Foundation (DFG) to work at TUM. He received offers of Chairs from Canada (University of Alberta) and Switzerland (Swiss Federal Institute of Technology Zurich), but chose to accept the Chair of Food Biofunctionality at TUM's Weihenstephan campus. Prof. Haller currently chairs the European Science Foundation's (ESF) Forward Look initiative on "Gene environment interaction in chronic disease (GENESIS)". He is Director of the Department of Nutrition and Food Science. Professor Haller now coordinates the national priority program of the German Research Foundation (DFG) on "intestinal microbiota" and heads a DFG graduate program in the Department of Nutritional Sciences at the Weihenstephan campus.
Awards
Emmy Noether Stipendium (2000-2002)
Nachwuchsforschergruppe der DFG (2002-2006)
Key Publications
Von Schillde M-A, Hörmannsperger G, Weiher M, Alpert CA, Hahne H, Bäuerl C, van Huynegem K, Steidler L, Hrncir T, Pérez-Martínez G, Kuster B, Haller D: "Lactocepin secreted by Lactobacillus exerts anti-inflammatory effects by selectively degrading pro-inflammatory chemokines". Cell Host & Microbe. 2012;11(4): 387-396.
Renz H, von Mutius E, Brandtzaeg P, Cookson W, Autenrieth I, Haller D: "Gene environment interaction in chronic inflammatory disease". Nat. Immunol. 2011; 12(4):273-277
Werner T, Wagner S, Martinez I, Walter J, Chang JS, Clavel T, Kisling S, Schuemann K, Haller D: "Depletion of luminal iron alters the gut microbiota and prevents Crohn´s disease-like ileitis". Gut; 2011; 60(3): 325-33.
Steck N, Hoffmann M, Sava IG, Kim SC, Hahne H, Tonkonogy SL, Mair K, Krueger D, Pruteanu M, Shanahan F, Vogelmann R, Schemann M, Kuster B, Sartor RB, Haller D: "Enterococcus faecalis Metalloprotease Compromises Epithelial Barrier and Contributes to Intestinal Inflammation". Gastroenterology. 2011; 141(3): 959-71.
Shkoda A, Ruiz PA, Daniel H, Kim SC, Rogler G, Sartor RB, Haller D: "IL-10 blocked endoplasmatic reticulum stress in the intestinal epithelium: impact on chronic inflammation". Gastroenterology. 2007; 132(1): 190-207.
print view