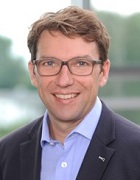 Academic Career and Research Areas
Professor Haller (b. 1968) conducts research in the field of nutrition science. The main focus of his research is on bacteria (microbiota) in the intestine and their role both in chronic inflammatory diseases like Crohn's disease and in carcinogenesis. Epithelial tissue, which acts as a boundary with both metabolic and immunological functions in the intestine, occupies a central position in Professor Haller's research work.
After graduating from the University of Hohenheim with a joint honors degree, Professor Haller completed a doctoral thesis in the field of food microbiology and nutrition science. He then worked in Switzerland and the USA as a visiting researcher, before being admitted to the Emmy Noether Programme of the German Research Foundation (DFG) and joining TUM as a Junior Research Group Leader. After receiving offers from Canada (University of Alberta) and Switzerland (ETH Zürich), he now holds the Chair of Nutrition and Immunology and directs the Ziel Institute for Food and Health at the TUM Weihenstephan Campus. Professor Haller also directs and coordinates a range of international and national research programs (including the DFG Priority Program SPP1656 "Intestinal Microbiota" and the DFG Research Training Group GRK1482). He was presented the main prize of the German Society for Hygiene and Microbiology (DGHM) for his research work on microbiota.
Awards
ERC Review Panel Head for the Consolidator Program (2015 und 2017)
Main Prize of the German Society for Hygiene and Microbiology (DGHM) (2015)
Emmy Noether Programme, German Research Foundation (DFG) (2000-2006)
Berger E, Rath E, Yuan D, Waldschmitt N, Khaloian S, Allgäuer M, Staszewski O, Lobner EM, Schöttl T, Giesbertz P, Coleman OI, Prinz M, Weber A, Gerhard M, Klingenspor M, Janssen K-P, Heikenwälder M, Haller D. "Mitochondrial function controls intestinal epithelial stemness and proliferation". Nat Commun. 2016; 13171.
Abstract
Schaubeck M, Clavel T, Calasan J, Lagkouvardos I, Haange SB, Jehmlich N, Basic M, Dupont A, Hornef M, Bergen MV, Bleich A, Haller D. "Dysbiotic gut microbiota causes transmissible Crohn's disease-like ileitis independent of failure in antimicrobial defence". Gut. 2016; 65(2): 225-237.
Abstract
Von Schillde M-A, Hörmannsperger G, Weiher M, Alpert CA, Hahne H, Bäuerl C, van Huynegem K, Steidler L, Hrncir T, Pérez-Martínez G, Kuster B, Haller D: "Lactocepin secreted by Lactobacillus exerts anti-inflammatory effects by selectively degrading pro-inflammatory chemokines". Cell Host & Microbe. 2012; 11(4): 387-396.
Abstract
Renz H, von Mutius E, Brandtzaeg P, Cookson W, Autenrieth I, Haller D: "Gene environment interaction in chronic inflammatory disease". Nat. Immunol. 2011; 12(4): 273-277.
Abstract
Steck N, Hoffmann M, Sava IG, Kim SC, Hahne H, Tonkonogy SL, Mair K, Krueger D, Pruteanu M, Shanahan F, Vogelmann R, Schemann M, Kuster B, Sartor RB, Haller D: "Enterococcus faecalis Metalloprotease Compromises Epithelial Barrier and Contributes to Intestinal Inflammation". Gastroenterology. 2011; 141(3): 959-971.
Abstract
print view