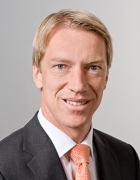 Academic Career and Research Areas
Professor Henkel conducts research in the area of innovation management and entrepreneurship with a focus on selective openness in innovation processes, i.e., finding the middle ground between distribution and appropriation of value; commercial development of open source software; innovation by users; combining patent protection and openness; patent management; patent violation claims from patent trolls; patent portfolio races; and the use of patents at universities. Along with Professor D. Harhoff, he organizes and hosts the Munich Innovation Conference.
Dr. Henkel studied physics in Bochum and Bonn and earned his PhD in economics in 1997 at the University of Mannheim under the supervision of Professor K. Stahl. He later worked for the management consulting firm Bain & Company for two years. In 2004 he acquired his postdoctoral teaching qualification (habilitation) in business studies at LMU Munich under the supervision of Professor D. Harhoff on the topic of open source activities. He has conducted research at University College London, the Massachusetts Institute of Technology and Harvard Business School.
Awards
Finalist, Stephan Schrader Best Conference Paper Award der TIM Division, Academy of Management Meeting (2010)
Finalist, DRUID Best Paper Award (2010)
Dozentenpreis der Fakultät für Elektrotechnik und Informationstechnik (2009)
Best Paper Award, zweiter Platz, der OCIS Division, Academy of Management Meeting (2007)
Walter Rathenau Preis (Best Paper Award), GEABA Jahrestagung (2004)
Henkel J, Maurer S. "Network Effects in Biology R&D". American Economic Review, Papers and Proceedings. 2010; 100(2): 159-164.
Abstract
Henkel J. "The Risk-Return Paradox for Strategic Management: Disentangling true and spurious effects". Strategic Management Journal. 2009; 30: 287-303.
Abstract
Reitzig M, Henkel J, Heath CH. "On sharks, trolls, and their patent prey – Unrealistic damage awards and firms' strategies of 'being infringed'". Research Policy. 2007; 36: 134–154.
Abstract
Henkel J. "Selective revealing in open innovation processes: The case of embedded Linux". Research Policy. 2006; 35(7): 953-969.
Abstract
Franke N, Gruber M, Harhoff D, Henkel J. "What you are is what you like – Similarity biases in venture capitalists' evaluations of start-up teams". Journal of Business Venturing. 2006; 21(6): 802-826.
Abstract
print view