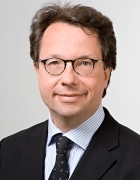 Prof. Dr. Peter Henningsen
Academic Career and Research Areas
The research areas of Professor Henningsen (b. 1959) are chronic somatic complaints with inadequate organic explanation. This research deals with somatoform or functional complaints such as pain, functional disturbance and exhaustion. He plays a coordinating role in diagnostic and therapeutic studies and in functional imaging and other psychophysiological studies examining the neurophysiological correlates of the experience of the complaint.
Professor Henningsen studied medicine in Stuttgart-Hohenheim, Freiburg, Berlin and Cambridge (UK). He completed his training as a neurologist in Berlin and Heidelberg before changing to the field of psychosomatic medicine. He acquired his postdoctoral teaching qualification (habilitation) in 2002 in Heidelberg and in 2005 was given a faculty appointment in the Department of Psychosomatic Medicine and Psychotherapy. Professor Henningsen was appointed vice dean in 2006 and has held the office of dean of the TUM School of Medicine since 2010. He is a member of the board of the German Collegium for Psychosomatic Medicine and the Viktor-von-Weizsäcker Society.
Awards
Hans Roemer-Preis (2012)
DKV-Cochrane-Preis (2000)
Studienstiftung des deutschen Volkes (1977-1984)
Key Publications
Creed F, Henningsen P, Fink P: Medically unexplained symptoms, somatisation and bodily distress. Cambridge: Cambridge University Press, 2011.
Henningsen P, Zipfel S, Herzog W: "The management of functional somatic syndromes". Lancet. 2007; 369: 946-955.
Abstract
Henningsen P, Ceballos-Baumann A, Gündel H: Neuro-Psychosomatik. Stuttgart: Schattauer, 2006.
Henningsen P: "The body in the brain: Towards a representational neurobiology of somatoform disorders". Acta Neuropsychiatrica. 2003; 15: 157-160.
Abstract
Henningsen P, Zimmermann T, Sattel H: "Medically unexplained physical symptoms, anxiety and depression: a meta-analytic review". Psychosomatic Medicine: 2003; 65: 528-533.
Abstract
print view