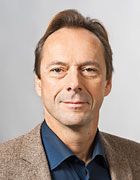 Prof. Dr. Joachim Hermsdörfer
Academic Career and Research Areas
The research interests of Professor Hermsdörfer are the principals of human movement and motor learning with particular respect to the underlying neuronal mechanisms. Using methods of movement analysis and neuroimaging, his current research explores elementary sensorimotor ability, complex routine actions and sporting activities in the areas of leisure and high performance. The research findings are applied to rehabilitation and prevention measures and sport interventions.
After studying engineering at TUM (1985) Professor Hermsdörfer (b. 1959) worked at the Max Planck Institute for Psychiatry in Munich. He completed his PhD in 1993 and acquired his postdoctoral teaching qualification (habilitation) in 2004 at the Institute for Medical Psychology at LMU Munich. As of 1990 he worked in the clinical neuropsychology development team at the Bogenhausen Clinic in Munich and as of 2004 directed the "Sensomotory Disorders" research group. He has been a professor at TUM since 2010.
Key Publications
Randerath J, Goldenberg G, Spijkers W, Li Y, Hermsdörfer J: "Different left brain regions are essential for grasping a tool compared with its subsequent use". NeuroImage. 2010; 53: 171-180.
Abstract
Nowak DA, Hermsdörfer J: Sensorimotor Control of Grasping: Physiology and Pathophysiology. Cambridge: Cambridge University Press, 2009.
Abstract
Hermsdörfer J, Terlinden G, Mühlau M, Goldenberg G,Wohlschläger AM: "Neural representations of pantomimed and actual tool use: Evidence from an event-related fMRI study". NeuroImage. 2007; 36: 109-118.
Abstract
Hermsdörfer J, Hagl E, Nowak DA, Marquardt, C: "Grip force control during object manipulation in cerebral stroke". Clinical Neurophysiology. 2003; 114: S. 915-929.
Abstract
Hermsdörfer J, Mai N, Spatt J, Marquardt C, Veltkamp R, Goldenberg G: "Kinematic analysis of movement imitation in apraxia", Brain. 1996; 119: 1575-1586.
Abstract
print view