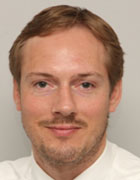 Prof. Dr. Günter U. Höglinger
Academic Career and Research Areas
Professor Höglinger (b. 1971) conducts research in the field of neurodegenerative Parkinson syndromes with the goal of understanding the molecular mechanisms leading to the development and progression of neuronal dysfunction and death and of using these findings for diagnostic and therapeutic purposes. His particular focus is the interface between preclinical and clinical research.
Günter Höglinger studied medicine and physics at the universities of Regensburg and Würzburg. He earned his PhD in medicine, summa cum laude, in 2000. Supported by a grant from the German Research Foundation, DFG, he worked as a postdoctoral researcher at the Hôpital de la Salpêtrière in Paris. Since 2004 he has directed the experimental neurology research group at Philipps University Marburg. In Marburg he also acquired his German medical board certification in neurology and went on to work as a senior physician. Since 2011 he has worked as a senior consultant at TUM's Department of Neurology and holds the Chair of the Department of Translational Neurodegeneration at the German Center for Neurodegenerative Diseases, DZNE.
Awards
Heisenberg Professur der DFG (2011)
Innovationspreis der Walter & Luise Freundlich-Stiftung (2009)
CurePSP, Scientific Advisory Board (2007)
Award for Excellence der Movement Disorders Society (2007)
Forschungspreis der Deutschen Parkinson Vereinigung (2005)
Key Publications
Höglinger GU, Schellenberg JD et.al.: "Identification of common variants influencing risk of the tauopathy Progressive Supranuclear Palsy." Nature Genetics, 2011;43: 699-705.
Stamelou M, Höglinger GU et.al.: "Short-term effects of coenzyme Q10 in progressive supranuclear palsy: a randomized, placebo-controlled trial." Movement Disorders, 2008;23: 942-9.
Escobar Khondiker M, Höglinger GU.: "Annonacin, a Natural Mitochondrial Complex I Inhibitor, Causes Tau Pathology in Cultured Neurons." J. Neuroscience. 2007;27: 7827-37.
Höglinger GU, Hunot S.: "The pRb/E2F cell-cycle pathway mediates cell death in Parkinson's disease." Proc Natl Acad Sci U S A. 2007;104: 3585–3590.
Höglinger GU, Hirsch EC.: "Dopamine depletion impairs precursor cell proliferation in Parkinson disease." Nature Neuroscience. 2004;7: 726-735.
print view