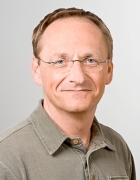 Prof. Dr. Bernhard Holzmann
Academic Career and Research Areas
Professor Holzmann (b. 1959) undertakes research in the field of hereditary immunity. In his scientific work he specializes in mechanisms which contra-regulate hereditary immune response concentrating in particular on the neuronal control of immune response. His clinical research deals with the immunopathogenesis of sepsis.
Professor Holzmann studied medicine at LMU Munich. His scientific work took him to Stanford University (Palo Alto, USA) and the Max Planck Institute for Biochemistry (Martinsried). He has worked at TUM since 1991, initially at the Institute for Medical Microbiology, Immunology and Hygiene, then at the Surgical Clinic and Policlinic of Klinikum rechts der Isar. From 1995 – 2000 he led the DFG Clinical Research Group "Immunosuppression and Postoperative Sepsis". Since 2001 he has been a spokesperson for DFG Collaborative Research Centre 576 "Facultative Microbial Pathogenicity and Hereditary Immunity".
Awards
Walter Brendel Award of the European Society for Surgical Research (1998)
Gerhard Hess Förderprogramm der Deutschen Forschungsgemeinschaft (1993-1998)
Johann Georg Zimmermann Preis (1987)
Key Publications
Harzenetter MD, Novotny AR, Gais P, Molinas CA, Altmayr F, Holzmann B: "Termination of Toll-like receptor responses by the neuropeptide CGRP is mediated by the transcriptional repressor ICER." J. Immunol. 2007; 179:607-615.
Semmrich M, Smith A, Feterowski C, Beer S, Engelhardt B, Busch DH, Bartsch B, Laschinger M, Hogg N, Pfeffer K, Holzmann B: "Importance of integrin LFA-1 deactivation for the generation of immune responses." J. Exp. Med. 2005; 201:1987-1998.
Weighardt H, Kaiser-Moore S, Vabulas RM, Kirschning CJ, Wagner H, Holzmann B: "Cutting edge: MyD88 deficiency improves resistance against sepsis caused by polymicrobial infection." J. Immunol. 2002; 169: 2823-2827.
Weighardt H, Heidecke CD, Westerholt A, Emmanuilidis K, Maier S, Veit M, Gerauer K, Matevossian E, Ulm K, Siewert JR, Holzmann B: "Impaired monocyte IL-12 production before surgery as a predictive factor for the lethal outcome of post¬operative sepsis." Ann. Surg. 2002; 235: 560-567.
Holzmann B, McIntyre BW, Weissman IL: "Identification of a murine Peyer´s patch-specific lymphocyte homing receptor as an integrin molecule with an * chain homo¬logous to VLA-4*." Cell . 1989; 56: 37-46.
print view