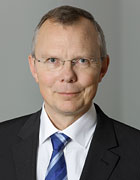 Prof. Dr. Harald Bolt
Honorary Professor at TUM since 1999
Field
Materials, Surface Technologies
Career
Professor Bolt (b. 1960) studied mechanical engineering in Aachen from 1980 to 1985. He earned doctoral degrees from RWTH Aachen in 1988 and Nagoya University, Japan, in 1990. From 1986 to 1988 he was a Euratom visiting scientist in Japan at the Universities of Osaka and Nagoya and also at the Japan Atomic Energy Research Institute. From 1988 to 1990 he was at the Max Planck Institute for Plasma Physics where he worked in the group planning the next European fusion reactor and was also involved in work on ITER.
In his scientific research Harald Bolt has largely been concerned with materials science. He has developed materials and coatings that help confine hot plasma in fusion devices such as ITER and investigated the interactions of these materials with fusion plasma.
Harald Bolt has been a member of the board of directors of Research Centre Jülich since 2008. He has also been a scientific member of the Max Planck Society and director of the Max Planck Institute of Plasma Physics in Garching. He is involved in various international committees. These include the Advisory Group on Energy for the EU Directorates-General for Research and Innovation, for Transport and for Energy.
Functions
Member of the board of directors of Research Centre Jülich (since 2008)
Member of the supervisory board of the European "Fusion for Energy" agency (since 2007)
Director of the Max Planck Institute of Plasma Physics in Garching (1999-2008)
Head of the plasma technology research group, Research Centre Jülich (1992-1998)
Associate Professor at the University of Tokyo (1990-1992)
print view