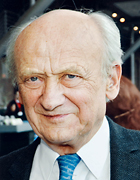 Prof. Dr. Wolfgang Bürgel
Deceased September 15, 2013
Honorary Professor at TUM since 1995
Field
Logistics in Practice and Material Flow
Career
Professor Bürgel completed his mechanical engineering studies at TUM in 1956. During this time he spent one semester as an exchange student at C.T.I. Pittsburg/USA.
Until 1959 he worked for Heinrich Lanz and John Deere in Mannheim/Germany as a production engineer and assistant to the board member responsible for production. His tasks included incorporating materials management into the area of responsibility of the production department.
In 1969, as manager of the Duisburg plant of DEMAG AG Duisburg, which at that time specialized in rolling mill and compressor technologies, he was involved in managing DEMAG's expansion from a functional to a product-oriented organization. In addition to this he was responsible for the production department and investments.
As of 1974 Professor Bürgel assumed the position of managing director of various companies (Stöhr, Mannesmann-Demag-Fördertechnik (conveying engineering). In 1989 Professor Bürgel accepted a teaching assignment at TUM where he taught until 2005.


Functions
Teaching assignment at TUM (1989-2005)
Member of the board of directors of Mannesmann-Demag-Fördertechnik (1992- 1995)
Managing director with worldwide responsibility for cranes and control devices (1986)
Managing director of production operations at Mannesmann-Demag-Fördertechnik (1979)
Managing director of Stöhr in Offenbach (continuous conveyor systems – acquired by Demag AG Duisburg) (1974-1978)
Awards
Recipient of an honorary doctorate degree in engineering from TUM (Dr. Ing. E. h.) (1993)
print view