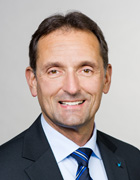 Prof. Karl Deindl
Honorary Professor at TUM since 2013
Field
Natural Water Development
Career
Professor Deindl studied civil engineering at TUM. After completing a post graduate trainee program, in 1989 he passed the state examination leading to top positions in the Bavarian civil service. He was then appointed to a position as department head at the Ingolstadt water management office and later became a senior executive in the Bavarian Ministry of the Environment. In July 2001 Professor Deindl was seconded for two years to the Supreme Building Authority of the Bavarian State where his main focus was traffic planning and management. When he returned to the Ministry of the Environment he directed his attention to cost accounting, controlling and the administrative reform (referred to as V21).
Between 2005 and 2013 he was head of the Ingolstadt Water Management District. In this role his primary focus was on flood prevention, controlled polders and the dynamic development of the Danube wetlands – a project that was unique in Europe. In 2013 Professor Deindl was put in charge of the "Policies" section of the Water Management and Soil Conservation Department in the Bavarian Ministry of the Environment. This section is responsible for the organization, personnel development and budget of the Bavarian Water Management Authorities.
Professor Deindl has periodically been a visiting lecturer at TUM since he was a senior executive in the Bavarian Ministry of the Environment. He has also conducted lecture tours to several countries, including Japan, during which he has been able to pass on his experience in the field of natural water development. Professor Deindl has had a teaching assignment at TUM to lecture on hydromechanics since 2007.
Functions
Section head in the Bavarian Ministry of the Environment (since 2013)
Head of the Ingolstadt Water Management District (2005-2013)
Senior executive in the Bavarian Ministry of the Environment and Supreme Building Authority (1994-2005)
Department head at the Ingolstadt Water Management Office (1989-1993)
Site manager at IB Dippold und Gerold, Prien am Chiemsee (1986-1987)
print view