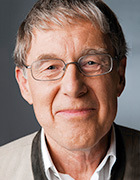 Prof. Dr. Ernst J. Feicht
Honorary Professor at TUM since 2002
Field
Engineering Management
Career
Professor Feicht (b. 1942) studied physics at TUM and TU Berlin and earned his doctoral degree in 1970. A year later he was appointed to a position at Siemens AG where he developed software for various applications until 1979.
He then played a leadership role in EWSD, Siemens' Electronic Digital Switching System. Between 1984 and 1995 he was head of department and responsible for customer training and employee development. In 1995 he chaired the organization committee for the World Telecommunications Congress in Berlin.
From 1996 to 2002 he was vice president in the marketing department. His responsibilities included competition analysis, standardization and patent management. Until his retirement in 2005 he worked in the central HR department where he was in charge of university relations. In particular, he set up Centers for Knowledge Interchange at TUM and other technical universities at home and abroad.
He has held lectures at TUM since 1996. Between 2000 and 2002 he was involved in the Bavarian Elite Academy program. Since 2005 he has played an active role in the Carl-von-Linde Academy.
Functions
University relations, Siemens AG (2003-2005)
Visiting professor at TUM and the University of the German Federal Armed Forces, Munich. Workshops at Tongji University in Shanghai, the Bavarian Elite Academy and Carl-von-Linde Academy (since 1996)
Vice president in the Public Networks Marketing department (Siemens) (1995-2003)
Head of the Training Center for Communication Networks at Siemens (1984-1995)
Head of department, Support Software, Public Switching Technologies (Siemens) (1980-1984)
print view