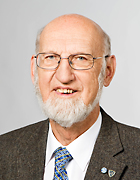 Prof. Dr. Hans Frei
Honorary Professor at TUM since 1993
Field
Cultural Geography, Geography and Regional Studies
Career
"Research, preservation, continuity – for Swabia" was the title of the Festschrift published in honor of Professor Frei on the occasion of his sixtieth birthday in 1997. This subject was the common thread that ran through his many different activities in the service of Swabian culture and his teaching and research at the University of Augsburg and TUM.
From 1970 to 1987 Professor Frei was senior cultural heritage officer and from 1988 to 2003 museum director of the administrative region of Swabia. He was deeply committed to preserving Swabia's cultural heritage, historical environment and cultural landscape as well as to conducting research into local history, always bearing in mind the geographical and historical fundamentals as a basis for the preservation and development of cultural traditions.
In numerous articles in scientific journals and publications on regional and cultural studies he has examined the role of Swabia as a cultural landscape and its significance in the culture and lifestyle of the present day. He has also held teaching assignments at TUM and the University of Augsburg where he has lectured on the subjects of cultural geography, geography and regional studies, and culture management. He is still a member of several regional and national advisory boards where he continues to promote the conservation of historic buildings, the work of museums and the development of cultural activities.
Functions
Head of working group on regional studies of the Bavarian Local Heritage Society (since 2012)

Member of the board of the Hans Frei Cultural Foundation and the Dr. Eugen Liedl Foundation (2003-2013)

Member of the nature conservation advisory board of the Swabian government (1986-2013)

Teaching assignment at the Institute of Geography at the University of Augsburg (1973-2013)

Member of the Swabian Research Foundation (1972-2013)
Awards
Regional Studies Award of the Bavarian Society of Regional Studies (2010)
Bavarian Order of Merit (2008)
Recipient of the Aventinus Medal awarded by the Association of Bavarian Historical Societies (2006)
Recipient of the golden honorary ring of the Administrative District of Augsburg (2000)
Recipient of the Bavarian Medal for the Preservation of Historic Buildings (1987)
print view