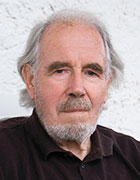 Prof. Dr. Theodor Gaymann
Honorary Professor at TUM since 1978
Field
Testing Technologies used in Aircraft Construction
Career
Professor Gaymann studied mechanical engineering at TUM (1947-1951). He then spent an academic year at Michigan State University (MSU) in East Lansing, Michigan, USA.
In 1953 he graduated with a degree in mechanical engineering. Subsequently he worked as an assistant professor in TUM's Department of Engineering Mechanics under Professor Föppl. He earned his PhD in 1957 having completed his doctoral studies under the supervision of Professor Neuber, Professor Föppl's successor.
Professor Gaymann then joined German aircraft manufacturer Dornier-Werke GmbH where he worked in the department responsible for special constructions. One of his tasks was to design a central strength testing laboratory for the German aircraft industry. In 1962 he joined engineering service provider IABG where he was given the responsibility of setting up this laboratory. At this time a major and increasingly important task of the strength testing laboratory was to test the entire airframe of large commercial aircraft for material fatigue. IABG has since conducted these tests on all Airbus airliners.
In 1969 Professor Gaymann accepted an assignment at TUM to lecture on the testing technologies used in aircraft construction. In 1978 he became technical director of IABG.
Due to ill health Professor Gaymann had to stop working at IABG (1987) and teaching at TUM (1989).
Functions
Technical director of IABG (1978-1987)
Director of the technical section of IABG (1970)
Head of the material strength department at IABG (1969)
Awards
First Class Cross of Merit of the Order of Merit of the Federal Republic of Germany (1987)
print view