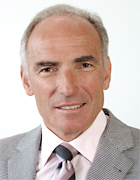 Prof. Dr. Albert Göttle
Honorary Professor at TUM since 1994
Career
Professor Göttle studied civil engineering at TUM. He completed his engineering degree in 1972 and earned his doctoral degree in 1979 in the field of water management from the Department of Urban Water Management. Subsequently, he held various positions within the water management authorities and in the Bavarian Ministry of the Environment.
In 2000 Professor Göttle was appointed president of the Bavarian Water Management Agency. In 2004 he returned to the Bavarian Ministry of the Environment where he headed the Water Management Department.
Professor Göttle accepted a teaching assignment in water management and resources protection in 1988 and still teaches today. In 1994 he was appointed honorary professor at TUM.
Professor Göttle also plays an active role in several national and international commissions and work groups.
Functions
Head of the Department of Nuclear Safety and Green Energy in the Bavarian Ministry of the Environment and Health (since 2011)
Founding president of the Bavarian State Agency for the Environment (2005-2011)
Head of the Water Management Department in the Bavarian Ministry of the Environment (2004-2005)
President of the Bavarian State Agency for Water Management (2000-2005)
Head of the Kempten Water Management District (1987-1992)
Awards
Honorary member of the German Association for Water, Waste Water and Waste (DWA) (2012)
print view