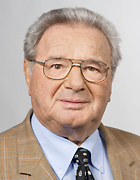 Prof. Johannes Halm
Honorary Professor at TUM since 1999
Field
Technical Analysis of Road Traffic Accidents
Career
Professor Halm studied mechanical engineering at TH Hanover. At the beginning of the 1960s he was given the opportunity to join the Bundeswehr (German Federal Armed Forces) as a technical officer. His career start with the Luftwaffe (German Air Force) gave him a profound insight into the construction, operation and failure analysis of military vehicles and ground equipment.
At the end of 1967 Professor Halm moved to the technical department of an insurance company where he remained until 2000, for the last five years as chief engineer. His main responsibilities included the risk assessment and damage analysis of technical equipment, especially of motor vehicles.
Professor Halm has held teaching appointments at Munich University of Applied Science, the University of the Bundeswehr (Federal Armed Forces) in Neubiberg and TUM where he lectures on "Automotive Engineering" and the "Technical Analysis of Road Traffic Accidents".
Functions
Chairman of the Expert Group on Road Traffic Accidents of the government of Upper Bavaria (2001-2008)
Chief engineer of an insurance company (1985-2000)
Technical officer of the Luftwaffe (1964-1985)
print view