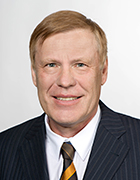 Prof. Dr. Ulrich Heiden
Honorary Professor at TUM since 2001
Field
Automotive Electrical and Electronic Systems
Career
After studying physics at TU Karlsruhe, Professor Heiden (b. 1951) conducted research at the Karlsruhe National Nuclear Research Center (KfK) on uranium isotope separation technologies and earned his doctoral degree in 1978 at TU Karlsruhe (Department of Mechanical Engineering).
He started his career in industry in 1979 in the Production and Engineering Department at BMW AG where he held a senior position in the recently set up pilot plant in the field of production assurance and monitoring for new car models.
In 1985 he moved to the Development Department where he held various leadership positions in the field of electrical and electronic systems. His responsibilities included developing and testing at the component, system and vehicle level, a project leadership role in the development of the electrical and electronic (E/E) system architecture of the small car series (1-series, 3-series), and the development of a diagnostic system for BMW's global service facilities.
Professor Heiden has been lecturing since 1994 on automotive electrical and electronic systems and their integration with the overall system consisting of the human, the vehicle, the environment and the surroundings.
Functions
Development of a vehicle diagnostic system, BMW AG (2005-2011)
Project leader, E/E system architecture of the small car series, BMW AG (1998-2005)
Electrical and electronic (E/E) system development and testing, BMW AG (1993-1998)
Electrical and electronic (E/E) component development and testing, BMW AG (1985-1993)
Production assurance for new vehicles, BMW AG (1979-1985)
print view