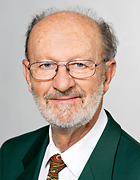 Prof. Dr. Heinrich Hupf
Honorary Professor at TUM since 2001
Career
Professor Hupf studied pharmacy and food chemistry at LMU Munich (1959-1964). After completing his studies he worked at the same university as an assistant professor until 1967. He earned his doctoral degree in 1968 with a thesis entitled "Changes in the binding forms of sulfur in food proteins during food processing with particular regard to lanthionine formation". In 1967 he joined the Bavarian Health and Food Safety Agency (LGL) in Munich.
As of 1988 he worked in the field of consumer health protection as the senior chemical director responsible for the testing of beverages and pharmaceutical products. Beginning in 2000 his area of responsibility was extended to include all fruits and vegetables, drinking and mineral water, and the inspection of the applicable food processing facilities. One of the primary focuses of his work was the analysis of wines from abroad. He is the author of some 20 scientific publications about the chemical composition and evaluation of wines.
In 1993 he accepted an assignment to teach food law at the Department of Brewing, Food Technology and Dairy Science in Weihenstephan.
Functions
Alternate member of the German Pharmacopoeia Commission of the German Federal Ministry of Health (since 1995)
Member of the Federal Wine Research Committee of the German Federal Ministry of Food, Agriculture and Forestry (since 1989)
Senior chemical director at the Bavarian Health and Food Safety Agency (LGL) (since 1988)
Member of the Wine and Fruit Juice Analysis Commission of the Federal Ministry of Health (since 1983)
Member of the international jury of the Third Wine Competition in Slantschev Brjag, Bulgaria, under the patronage of the International Organization of Vine and Wine, Paris (OIV) (1980)
print view