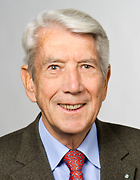 Prof. Dr. Hans-Dieter Kalscheuer
Honorary Professor at TUM since 1990
Field
Business Administration
Career
After completing a business apprenticeship and various internships, Professor Kalscheuer earned an undergraduate degree in industrial engineering (Dipl.-Ing.). He subsequently received an MBA from INSEAD graduate business school. In 1965 he earned his PhD (Dr. rer. pol.) from TU Berlin.
He started his career in industry in 1963 in the field of electronic data processing. In 1967 he was appointed chief executive of a bottled water company and as of 1971 held various leadership positions with Nestlé AG, Vevey. Most recently, from 1997 to 2000, he was chief executive officer of Perrier Vittel, now known as Nestlé Waters S.A., Paris, Nestlé's global bottled water operations. Professor Kalscheuer has been and still is a member of the supervisory boards of a number of companies including Rewe Gesellschaften, AGF S.A., Paris and Euro Hypo AG, Frankfurt.
He has lectured on the subjects of IT, corporate management, sales and marketing. He has held teaching appointments at what is now known as the Berlin School of Economics and Law (BSEL) (64/66), at TU Berlin (66/68), at the University of Würzburg (68/71) and at TUM (87/2003). Between 1966 and 1970 he also taught at INSEAD graduate business school in Fontainebleau as a visiting professor.
Functions
Président Directeur Général Nestlé Waters S.A., Paris (1997-2000)

Vice-chairman of the executive board of Nestlé Deutschland AG, Frankfurt (1993-1996)
Chairman of the executive board of Allgäuer Alpenmilch AG, Munich (1980-1992)
Member of the executive board of Nestlé Deutschland AG, Frankfurt (1977-1980)
Adm. Delegué, Aquinvest, Vevey (bottled water division of the Nestlé Group) (1973-1976)
Awards
Bavarian Order of Merit (1996)
Bavarian State Medal for outstanding services to the Bavarian economy (1993)
Order of Merit on Ribbon of the Federal Republic of Germany (1992)
Honorary board member of the German-Swiss Chamber of Commerce (1982)
print view