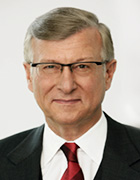 Prof. Dr. Edward G. Krubasik
Honorary Professor at TUM since 1999
Field
Value Enhancement through Restructuring, Growth and Innovation
Career
Professor Krubasik studied physics at the Universities of Erlangen-Nuremberg and Karlsruhe. After obtaining a doctorate in nuclear physics and following research projects at the Stanford Linear Accelerator Center in California, he completed an MBA program at the European Institute for Business Administration (INSEAD) in Fontainebleau, France.
From 1973 to 1996 Professor Krubasik worked as an associate, partner and director at McKinsey & Co., Inc. From 1997 to 2006 he was a member of the Corporate Executive Committee of Siemens AG with special responsibility for the company's Industry and Transport business sector and Siemens' Corporate Technology Department.
From 2004 to 2007 Professor Krubasik was a member of the Executive Committee of the German Federation of Industry, BDI, and held the position of president of the German Electrical and Electronic Manufacturers' Association, ZVEI. He was also president of Orgalime, the European Engineering Industries Association based in Brussels, and chairman of the Commission on Economic Growth and Innovation of the German Council of Economic Experts. Edward G. Krubasik was president of the Deutsche Physikalische Gesellschaft (German Physical Society) from April 2014 to April 2016, and subsequently acted as the society's vice president for an additional two-year term. He is currently resident director at INSEAD, where he holds lectures for members of supervisory boards, a member of the supervisory board of Vallourec/Paris and active in a number of non-profit organizations. Since April 2018, he has been chairman of the industry advisory council of TUM's Munich School of Robotics and Machine Intelligence (MSRMI).
Functions
Member of the supervisory board of Vallourec SA, Paris (since 2007)
Member of the Central Advisory Board of Commerzbank, Frankfurt, (2007-2013)
Chairman of the supervisory board of Honsel AG (2008-2009)
Member of the Corporate Executive Committee of Siemens AG (1997-2006)
Member of the supervisory board of Dresdner Bank, Stinnes AG, Essen, and KSB AG, Frankenthal (1998- 2007)
print view