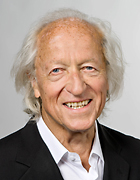 Prof. Dr. Wilhelm Kücker
Deceased October 24, 2014
Honorary Professor at TUM since 1975
Field
Landscape Architecture and
Landscape Planning
Career
Professor Kücker studied architecture in Munich, Vienna and Zürich. He completed his first degree at TUM, where, under the supervision of Professor Friedrich Krauß, he also obtained his doctoral degree (summa cum laude). He has run his own architect's office since 1965. Professor Kücker is also involved in scientific research on architectural theory.
His published works include books whose titles roughly translate as: "The Old Monastery Order of St. Francis in Munich – Architectural History and Reconstruction", "The Lost Innocence of Architecture – Essays and Speeches", "Architecture between Art and Consumption" and "The Architect's EGO".
Professor Kücker has been an honorary member of the Supreme Council of Architects of Spain (Consejo Superior de los Colegios de Arquitectos de España – CSCAE) since 1987 and an honorary member of the American Institute of Architects (AIA) since 1999.
Functions
Vice president of the Union Internationale des Architectes UIA (1987-1990)

President of the Association of German Architects (BDA) (1983-1987)
Visiting Professor, School of Architecture, Machintosh School of Art, Glasgow,
UK (1981) and Edinburgh University (1982)

Visiting Critic, School of Architecture, University of Virginia, Charlottesville, USA (1979)
print view