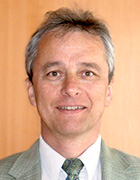 Prof. Dr. Wolfgang Mauch
Honorary Professor at TUM since 2005
Field
Industrial Energy Management, Environmental Management
Career
Professor Wolfgang Mauch (Dr.-Ing.) was born in Regensburg in 1956. He studied electrical engineering at the Technical University in Berlin. From 1987 to 1993 he held the position of academic councilor at the Institute for Energy Technology and Power Engineering at TUM. In 1993 he earned his doctoral degree with a thesis entitled "Cumulative energy demand for goods and services – a basis for life cycle analysis".
He has held lectures at TUM since 1997 on following subjects: "Industrial Energy Economy", "Life Cycle Analysis" and "Ecological Audits". Professor Mauch was appointed honorary professor at TUM in 2005.
Since 1995 he has been managing director of the Research Center for Energy Economics in Munich. He is also a scientific consultant at the Research Association for Energy Economics, a member of the Energy Management Cluster of the Bayern Innovativ initiative and a member of the supervisory board of KommEnergie GmbH. He is married and has four children.
Functions
Scientific consultant at the Research Association for Energy Economics mbH (since 2011)

Managing director of the Research Center for Energy Economics mgH (2005-2011)
Honorary professor at TUM (since 2005)

Lecturer at TUM (since 1997)

Managing director of the Research Association for Energy Economics (since 1995)
Awards
ManagEnergy Local Energy Action Award (2011)
print view