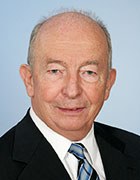 Prof. Dr. Klaus Müller
Honorary Professor at TUM since 1991
Field
Economics and Business Studies for Engineers
Career
Professor Klaus Müller (Dr.-Ing.) has a degree in mechanical engineering from TUM. From 1962 to 1965 he worked as a research assistant at the Institute for Agricultural Machinery. He received his doctoral degree in 1965. After completing a post-graduate course in Fontainebleau he received an MBA degree from INSEAD in 1966. He has broad industrial experience and has worked as a manager, vice-president and CEO in different sectors of industry including the chemical, nuclear valves, paper-machine and paper industry.
After a long career in industry, in 1991 he was given the opportunity to play an active role in the transformation process that followed the reunification of Germany. As one of the directors of Treuhandanstalt, the agency that was responsible for the privatization of East German state-owned enterprises, he supervised the restructuring and privatization of East Germany's wood- and paper industry. As of 1993 he led the development of TOB Treuhand Osteuropa Beratung, a consultancy founded to transfer to Eastern Europe the know-how acquired in the transformation process in East Germany. As of 1995 he worked as independent consultant focusing on management and privatization.
The topics of his courses are "Economics for Engineers" and "Principles of Management for Engineers".
Functions
Chairman of the management board of Bruderhaus Maschinen GmbH

Managing director of Sempell Armaturen GmbH & Co KG

Member of the board of directors of Allweiler AG Radolfzell

Director of Treuhandanstalt Berlin, responsible for the wood and paper industry

Managing partner of Central and Eastern European Consulting GmbH
print view