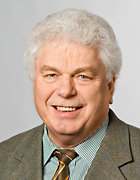 Prof. Dr. Josef Neiß
Honorary Professor at TUM since 2005
Field
Air Traffic Engineering in the Department of Traffic Engineering
Career
Professor Neiß studied mechanical engineering at TUM from 1970 to 1975. Afterwards he was employed as an assistant professor in the Department of Thermodynamics at TUM (1975-1983). He received his PhD for his work on transport processes in porous media in July 1982.
From 1983 to 1987 Professor Neiß worked in the energy department of the Bavarian Ministry of Economic Affairs. The following year he worked on a program promoting innovation in medium-sized companies. As of 1989 he was in the Traffic Engineering Department of the Ministry where he was in charge of aeronautical engineering, new transport technologies and the startup of the new Munich airport in May 1992. In 2001 his area of responsibility was extended to include magnetic levitation trains, cable cars, tram and subway engineering, and the transportation of hazardous materials.
Between 1995 and 2011 Professor Neiß held lectures on aviation at TUM. Since March 2010 he has headed the Energy Department of the Bavarian Ministry of Economic Affairs. After the Fukushima nuclear disaster on March 13, 2011 he was responsible for ensuring that the Bavarian Energy Concept was completed by May 24, 2011. Currently the main emphasis of his work is the implementation of this concept within the context of the German energy turnaround.
Functions
Head of the Department of Energy, Mines, Raw Materials and Environment in the Bavarian Ministry for Economic Affairs, Infrastructure, Transport and Technology (since 2010)

Head of the Technical Affairs Section for air traffic, magnetic levitation trains, cable cars, tram and subway engineering and the transport of hazardous goods in the Bavarian Ministry for Economic Affairs, Infrastructure, Transport and Technology (1995-2009)

Deputy Head of the Technical Affairs Section for air traffic and new transport technologies (1989-1994)

Field service in the Bavarian Mining Office; management of the department responsible for the promotion of innovation in medium-sized companies in Bavaria (1988)

Employee in the sections responsible for conducted energy and nuclear energy, renewable energy, energy conservation and energy technology in the Bavarian Ministry of Economy and Transport (1983-1988)
Awards
Prize awarded by Bund der Freunde der TUM e.V., an alumni association of TUM which translates as "Friends of TUM", for outstanding scientific work on the "Numeric simulation of heat and moisture transfer and ice formation in soils" (1983)
print view